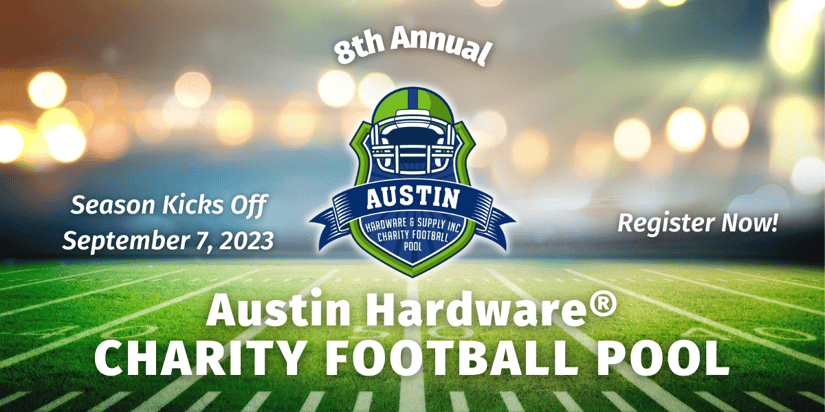 Registration is now open for the 8th annual Austin Hardware Charity Football Pool.
The season kicks off on

September 7, 2022

!
Sponsored by:
OUR PURPOSE
The Austin Hardware Charity Football Pool aims to foster some fun and friendly competition while also giving back. We've selected a handful of wonderful charitable organizations and will make a donation in the name of the winner(s) to one or a combination of them.
They include:
HOW THE POOL WORKS
• There is no cost or purchase necessary to play and it is open to anyone except Austin Hardware employees
• This is a "Survivor" (aka "Eliminator") style pool
• Players pick one (1) team each week to WIN (straight up, no point spread)
• If the player's pick WINS, the player continues to the next week; if the player's pick LOSES or TIES, the player is eliminated
• Players may pick each team ONLY ONE TIME during the season
• Limit is one (1) entry per e-mail address
• Updates will be provided weekly via this blog (so, please bookmark), as well as the pool dashboard at www.runyourpool.com, with notifications via e-mail and on social media (Facebook, Twitter, and Instagram).
REGISTRATION AND DEADLINES
Registration is simple. Just click either the New Player or Returning Player link (above), which takes you to the pool management website (www.runyourpool.com). You must register and make your Week #1 pick before kickoff of the 1:00 PM E.T. games on Sunday, September 10, 2023. However, we strongly encourage you to sign up before the first game of the regular season on Thursday, September 7, 2023.
QUESTIONS/COMMENTS/SPONSORSHIP OPPORTUNITIES
If you have any questions or would like information on becoming a pool sponsor, please contact Rob Dell'Elmo, Austin Hardware Marketing Manager, at 610.898.3403 or rdellelmo@austinhardware.com.
SIGN UP TODAY AND GOOD LUCK!
Jeremy Street is our defending champion, In 2022 a donation in Jeremy's name was made to the Alzheimer's Foundation of America.