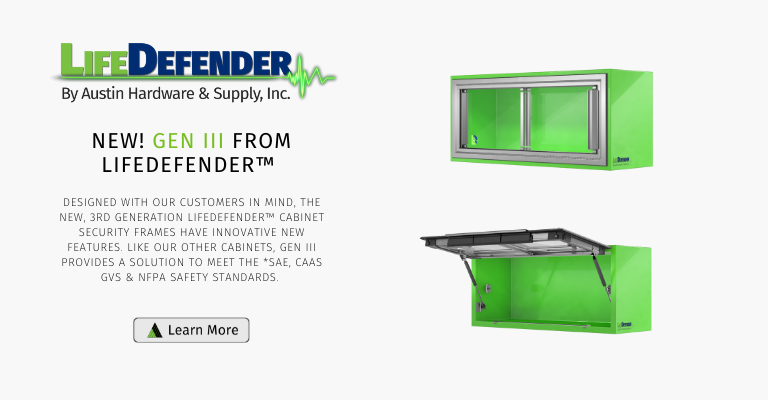 EMTs, paramedic's and other critical care workers have an incredible responsibility and they're often doing it while racing to the hospital and against the clock. They don't have time to think about their own safety while caring for a patient. LifeDefender™ Cabinet Security Frames were developed with these dedicated workers and their patients in mind. The 3rd generation of this revolutionary product is the fruit of the feedback from ambulance manufacturers and their customers.

Improved features in the 3rd generation updates include:
- An optional key locking feature is now available pre-installed for both the fixed and restocker (a.k.a. "speed-load") frames.
- Tag brackets, an optional inventory control feature that can be pre-installed onto the frame, have been improved with more mounting options and soft, over-molded covers on exposed areas.
- The slider handles have been redesigned smaller while maintaining the same operation and latching function. The smaller size allows the slider to open further, providing an extra inch of access space when the slider is open.
- Hinges are now anodized aluminum to improve the appearance against the frame as well as cosmetic durability.

- To more easily adjust a cabinet's latch clearance and door position, the hinge shims have been improved with all hole locations now slotted, allowing the shims to be added or removed between the hinge and cabinet without removing the hinge screws.
- Frames are now available with an optional pre-installed protective film on the outer frame. The film can remain on the frame without affecting the frame function.
- Fixed-frame LifeDefender™ units now include a new tether system to provide an extra connection between the cabinet and frame, which is especially helpful in wooden cabinets.
- Unframed LifeDefender™ doors (CW series) are now available with pre-engineered motion control options (gas springs or dampers) to move and hold the door in its open position.