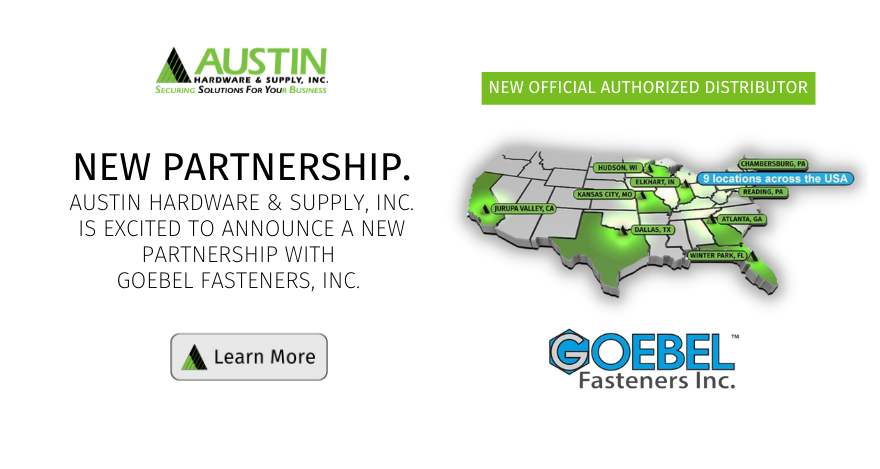 Austin Hardware & Supply, Inc. is excited to announce a new partnership with Goebel Fasteners, Inc. We have partnered with Goebel Fasteners Inc., as an authorized distributor for all products & tooling.
As you know, Austin Hardware® has worked diligently since 1960 to develop the best solutions to deliver quality parts and services to the wide variety of customers and industries we serve. As a result of our partnership, we are now an authorized distributor for Goebel Fasteners, Inc. and will distribute their product lines which consist of:
- Metric & American Standard: Blind Rivets
- Threaded Inserts
- New G-Grip™ Stainless Lockbolt System
- Self-Tapping/Drilling Screws
- Sealing Washers
- Drill Bits
- Nut Drivers
- Over-Center Toggle Latches
- Hand & Power Tools
- PPE Equipment, and many more innovative specialty products.
From Goebel:
"Goebel Fasteners, Inc. is pleased to partner with Austin Hardware & Supply, Inc. to distribute our blind fastening product lines, over-center latches, new G-Grip™ Stainless Lockbolt System, and other product lines throughout the United States. Austin Hardware® is an industry leader that provides engineered solutions for a variety of industrial applications. They help their supply partners get their products into the hands of industrial customers who are always working to keep their businesses productive and profitable. Austin Hardware is a great fit for our company's vision, and we are looking forward to working together for years to come.", said Marcel Goebel, CEO of the Goebel Group.
About Goebel
The Goebel Group is a family-run and internationally active business group of joining and assembly technology. Considered specialists in the development of innovative and high-quality joining elements and corresponding processing systems, their friendly and experienced staff, representatives, and distribution partners take care that customers are satisfied and actively support the entire supply chain and the value chain. For more information, visit: https://www.goebelfasteners.com/
A word from Bill Stambaugh, President of Austin Hardware & Supply, Inc.:
"Austin Hardware® has always worked diligently to provide high-quality products and innovative solutions so that the companies who place their trust in us can deliver their products to the marketplace as effectively as possible. We are committed to understanding the unique needs of our customers, anticipating market changes, and being an advocate and champion for our partners. Partnering with Goebel and distributing their innovative fastener solutions will help us provide our customers new products that will help streamline their manufacturing processes. We believe that as a family-owned and operated business we have an opportunity to invest in our people and our customers for the long term."
As you can see, both parties are equally excited about this new partnership. At Austin Hardware® we only work with some of the top businesses in the industry, and when we decide to partner with someone, you can be sure their quality matches our expectations and reputation.
Learn more about our complete line of products by visiting: www.ahs.us