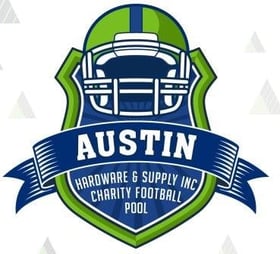 Welcome to the 7th Annual Austin Hardware Charity Football Pool UPDATES Page
Check back here every week during the season for a recap of the week's action and to see how many of our players advanced.
Updates are usually posted on
Tuesday

. Sponsored by:
WEEK #7 UPDATE
Congratulations to Jeremy Street for winning the 7th annual Austin Hardware Charity Football Pool.
There was not a lot of drama in Week #7. After all 3 players were "revived" after picking teams that lost in Week #6, there was little drama in Week #7. One of our players failed to make a pick, eliminating them right away. So, it came down to just two.
Jeremy advanced Sunday afternoon when the Las Vegas Raiders defeated the Houston Texans 38-20. The game held a bit of intrigue as the Texans led by 3 through three quarters. But Raiders running back Josh Jacobs gave the Raiders the lead for good with 13:32 to play with a 7-yard TD run, capping a 7-play, 76-yard drive for the Raiders. Jacobs would score again, finishing off another 7-play drive with a 15-yard TD run halfway through the quarter. Las Vegas would ice it with just over 3 minutes to play when Duron Harmon took an interception of a Davis Mills pass 73 yards for the game's final score.
The week (and ultimately, the final result) came down to Monday night's match-up between the Bears and Patriots on a cold, dreary night in Foxboro. Our last player counted on New England to take care of business at home. But Chicago jumped out to an early 10-0 lead and, with New England unsettled at quarterback, never looked back, upsetting the Pats 33-14.
Week #7 by the Numbers:
3 players started Week #7
2 eliminated
1 Winner – Congratulations to Jeremy Street
Jeremy will have the opportunity to decide to which charity he'd like us to donate in his name. Please follow us on social media, or check back here to see what he decides.
We thank everyone for playing, and our sponsors for participating in our Charity Football Pool for the 2022 season. We hope you had fun and look forward to having everyone back again next year.
---
OUR PURPOSE
The Austin Hardware Charity Football Pool aims to foster some fun and friendly competition while also giving back. We've selected a handful of wonderful charitable organizations and will make a donation in the name of the winner(s) to one or a combination of them.
They include: