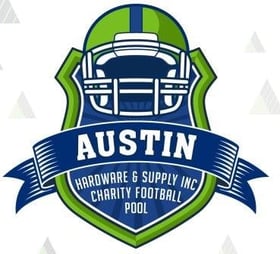 Welcome to the 8th Annual Austin Hardware Charity Football Pool UPDATES Page
Check back here every week during the season for a recap of the week's action and to see how many of our players advanced.
Updates are usually posted on
Tuesday

. Sponsored by:
---
WEEK #2 - 2023 UPDATE
There were no major upsets to shake up the pool in Week #2, but there were a couple big comebacks that certainly had players on edge. The New York Giants started the season by getting blanked at home 40-0 by division rival Dallas, then proceeded to fall into a 20-0 halftime deficit to the Arizona Cardinals. But the G-men clawed their way back for a huge 31-28 victory in the desert. Their NFC East counterpart, the Washington Commanders, trailed the Denver Broncos 21-3 before roaring back for a 35-33 victory. Along with a Dallas win over the New York Jets, and Philadelphia's Thursday night defeat of Minnesota, 3 of the 4 teams in the NFC East are off to 2-0 starts.
One player each was eliminated on losses by Minnesota, Cincinnati, Cleveland, Arizona, Denver, and Detroit. Six players were also eliminated for failing to make a pick.
In Week #2 our players made picks on 15 teams, playing to a 9-6 record.
Week #2 by the numbers:
44 players started Week #2
12 eliminated
32 advance to Week #3

Continued good luck to everyone advancing.
---
OUR PURPOSE
The Austin Hardware Charity Football Pool aims to foster some fun and friendly competition while also giving back. We've selected a handful of wonderful charitable organizations and will make a donation in the name of the winner(s) to one or a combination of them.
They include: