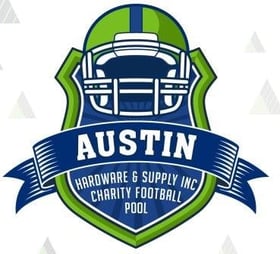 Welcome to the 7th Annual Austin Hardware Charity Football Pool UPDATES Page
Check back here every week during the season for a recap of the week's action and to see how many of our players advanced.
Updates are usually posted on
Tuesday

. Sponsored by:
WEEK #3 UPDATE
The Colts played very badly in a shutout loss to Jacksonville a week ago. They also needed a late comeback to force a tie in week 1 with Houston. This week's opponent was perennial Super Bowl contender Kansas City, who was off to 2-0 start. So, it's not a big surprise that 4 of our players pinned their hopes to the Chiefs in Week #3. Unfortunately for those players, KC fell asleep at the wheel in the second half of a game they mostly controlled and allowed the Colts to sneak back in and steal a 20-17 victory in their home opener.
On the other hand, I'm not quite sure what the rationale was for the 3 players who lost their spot by taking the 0-2 Las Vegas Raiders in their game at (also 0-2) Tennessee. Neither team has shown well in the early going, and the result seemed like a toss-up at best.
One player was also eliminated when the Jaguars upset the heavily favored Chargers in LA, and one fell by the wayside for failing to make a pick.
On the positive side for our players, the defending AFC champion Bengals finally got into the win column in week 3 by thumping the New York Jets, 27-12. Also, the Eagles continued their hot start with an easy 24-8 road victory over Washington.
Week #3 by the numbers:
13 players started Week #3
9 eliminated
4 advance to Week #4

Thanks to everyone for participating, and best of luck to our final 4 as they advance to week #4.

---
OUR PURPOSE
The Austin Hardware Charity Football Pool aims to foster some fun and friendly competition while also giving back. We've selected a handful of wonderful charitable organizations and will make a donation in the name of the winner(s) to one or a combination of them.
They include: