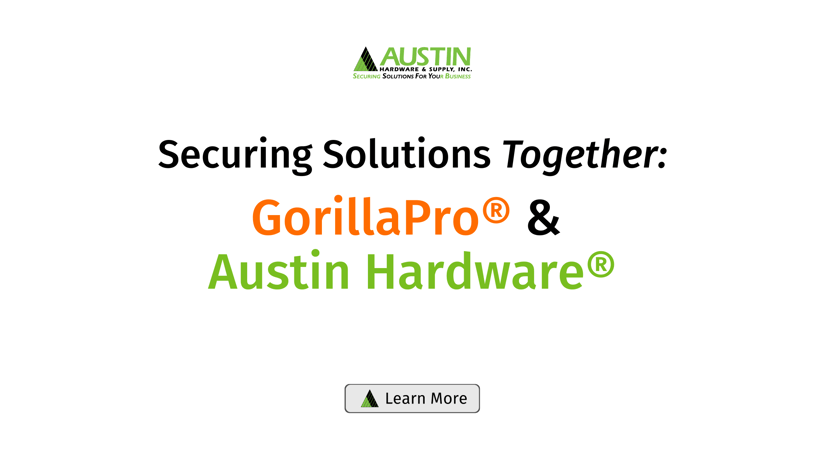 Austin Hardware® is a proud partner with H.B. Fuller and GorillaPro® Professional Grade products. Since 1960, Austin Hardware® has worked hard to secure hard-working solutions for the many different industries we serve.
We are excited about this new product offering from one of our most trusted partnerships. Read More below to see what GorillaPro® has to say about their products and how Austin Hardware can help provide the right solution for your industry!
From H.B. Fuller:
"About H.B. Fuller
Throughout our history, H.B. Fuller has built upon our knowledge to continually innovate. From the first hot pick-up "gum" to being one of the first U.S. companies to specialize in waterproof adhesives, H.B. Fuller has paved the way for adhesives to improve products and lives across the globe. Today, our focus on innovation brings together people, products, and processes that answer and solve some of the world's biggest adhesion challenges. We are connecting what matters™.
About Gorilla Glue
The Gorilla Glue Company is based in Cincinnati, Ohio, and has been selling Gorilla Glue® for over two decades. On a mission to make products that deliver impressive results, the company has since expanded its offerings to include Gorilla Tape®, Gorilla® Super Glue, Gorilla® Construction Adhesive, and other premium tapes, sealants, and adhesives. At Gorilla, we believe in high-quality products and choose to only put the Gorilla logo on products that meet rigorous development standards.
Two Companies – One Vision
H.B. Fuller is proud to introduce GorillaPro, the best of the best MRO product line with unique differentiation: packaging, dispensing, products, and color coding. Together, H.B. Fuller and Gorilla Glue have combined technology, innovation, and unbridled brute strength to deliver the next evolution of solutions for countless industrial fixes."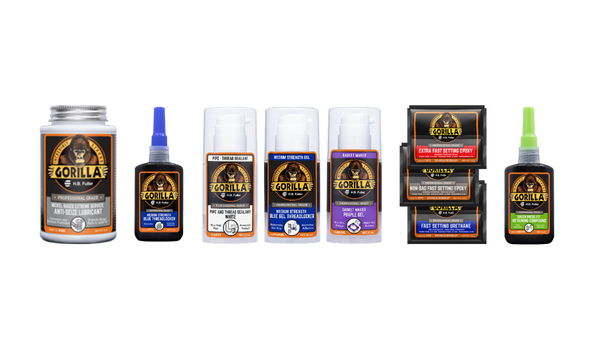 Industrial Grade Products & Solutions
At Austin Hardware®, we carry a wide variety of GorillaPro® industrial-grade solutions. The GorillaPro® product line offers several different products for different types of applications, including:
Threadlockers

Retaining Compounds

Gaskets and Sealants

Instant Adhesives

Epoxies and Urethanes

Anti-Seize Lubricants
If you are interested in learning which product is right for your application, one of our product experts can help you get started here: Connect with a product expert.
Multiple Industries Served
At Austin Hardware®, we work hard to find hard-working solutions for the many different industries we serve. When we partner with a company, we consider the many different industries we deal with daily. That's the great thing about the GorillaPro® product line -- it offers Industrial strength solutions for several different industries. Some of the top industries served are:
Service Centers

Oil & Gas

Power Generation

General Manufacturing

Mining & Quarries

Transportation
Don't see your industry? Our solutions consultants can still help you find the right solution for your industry. With our 9 U.S. locations, we serve various industries, providing excellent solutions for large and small companies and many OEMs.
At Austin Hardware®, we do business with top-quality industry players. As a family-owned business, who we choose to partner with matters to our team. We only offer great products and consider the brands we carry as long-term partnerships in this industry.
Visit the official GorillaPro® page to learn more and view our product offerings: https://info.austinhardware.com/gorillapro

Unless otherwise noted, trademarks are property of H.B. Fuller Company or one of its affiliated entities. Gorilla, GorillaPro, and Gorilla Professional Grade are registered trademarks of The Gorilla Glue Company.