How does custom kitting work?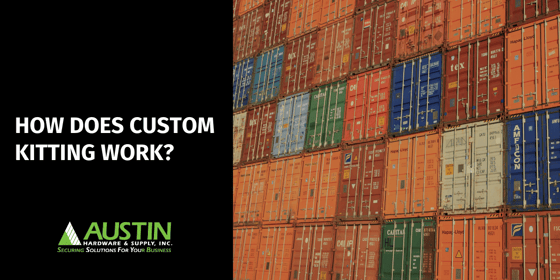 Inventory kitting, custom kitting or bundling products together is a strategy that allows businesses to save time and money. Instead of buying products one by one, kitting is a way to buy all the parts and products you need – say for manufacturing a good – therefore cutting out unnecessary purchasing steps. Seems simple, yet many businesses do not offer or utilize this type of service. Essentially everything you or your customers need are grouped and supplied together to make things easier for you. There are different ways that custom kitting works, and different ways that businesses can use this service to their advantage.
If you run a business, you know how busy your day can be. There's a lot to do, and a lot of hats you must wear throughout the day. Having one less thing on your to-do list can make your day run smoother, as well as give you a chance to focus on something else that is equally as important. One way to simplify your tasks is custom kitting. Basically, if you're receiving parts and products from different vendors you're spending time sourcing, price checking, and selecting these products. After that, your team then must sort and organize all the different parts. Sounds like a lot of work. That's because it is. Kitting basically cuts this process in half. Everything you need arrives in one convenient package from ONE supplier.
Benefits
We have covered a few of the benefits of custom kitting but here are some basics to keep in mind if your business wants to take your success to the next level.
Consolidation of purchase orders (Read More)
Reducing labor
Lower costs
Less inventory on hand or sitting around
Less vendors to deal with
Establishes better relationships with vendors
THE AUSTIN ADVANTAGE
Ready to take your business to the next level? Ready to WOW your customers? Are you ready to do less hard work and more smart work? If you answered YES to these questions, then you came to the right place. With our ABLEII™ Vendor Managed Inventory program, custom kitting is just one way for us to help you help your customers. Austin Hardware's team of experts provides solutions for your business. We don't just have the answers, we have the solutions. The solutions that are going to solve your business dilemmas and help your business run smoothly. When you work with Austin, you're getting more than a supplier. You're getting a partner in the business. We care about our customers, and work to build trusting, long-term relationships.
To read more about our ABLEII™ Vendor Managed inventory program and see if you are ready to take your inventory management to the next level, click here.
Or fill out our quick form below contacting us to schedule a VMI consultation today.