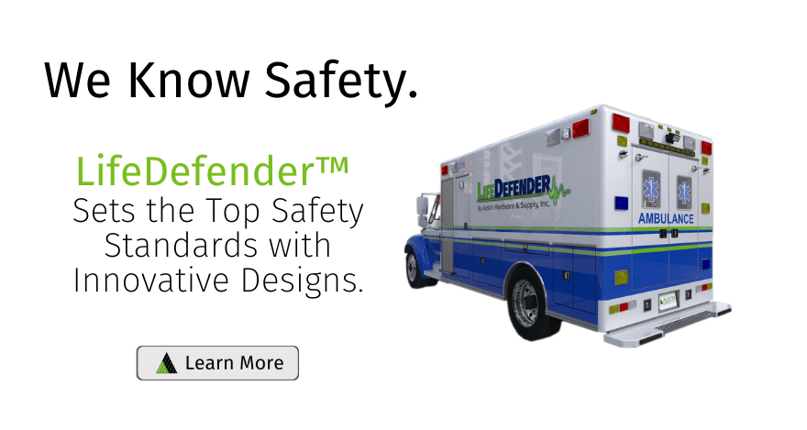 When it comes to safety, LifeDefender™ not only meets the industry standards, we helped to establish them. From our beginnings, we worked with a select group of emergency vehicle and ambulance manufacturers to set the toughest safety standards as well as design products that meet these standards. Our rigorous safety standards keep occupants inside emergency vehicles safe during transport. Austin Hardware's LifeDefender™ Cabinet Security Frames have been designed to provide a solution to meet the *SAE, CAAS GVS & NFPA safety standards. In addition to meeting strict safety standards, our frames are crash tested to ensure that the vehicle occupants, ems workers, and patients are safe during transport and in case of an accident.
Not only is safety our top concern, but we also created a top-quality design for all of our products. We utilized our custom engineering services to create efficient, quality designed products. The LifeDefender™ line designs feature a quick and easy install for quick assembly of emergency vehicles. Our cabinets are designed for ease of use, and some only require one-handed use for on-the-go applications. The simple, functional design is not only handy but is also suitable for many different uses, including marine and RV applications. LifeDefender™ has designed one tough frame and offers a variety of products to fit different needs and applications. Each product is designed with safety in mind as well as easy installation and use.
Our main line of LifeDefender™ products includes:
Fixed Frame: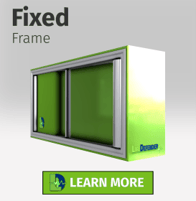 Our Fixed Access Frames increase the safety and security of the vehicle in an accident due to the latching mechanism on our panels. This also includes our one-handed opening features as well as a sliding panel.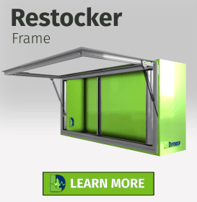 Restocking Frame:
There are two versions available for the restocking frame: the single fixed panel and the sliding panel. Both feature the same great design and one-handed opening option. However, they each offer different specifics when it comes to use and installation.
Unframed Hinge Door (Gen II):
Featuring a 180* opening and range, there are two options available for this design as well. Designed for safety, stability, and quick access.
Single Door: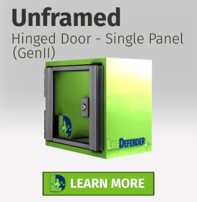 - Ability to open horizontally or vertically

- Left Hand and Right-Hand Configurations

- Locking Options Available (New!!)

- One-handed operation

- Slam closing with auto-latching feature
Double Door: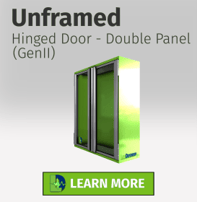 - One-handed operation (New!!)

- Locking Options Available (New!!)

- Improved strength due to stiffeners along the center

- Contact length of the latch/striker can be adjusted
We also have a NEW line of GEN III Cabinets designed specifically with end-users in mind, learn more here: GEN III FROM LIFEDEFENDER™
As you can see, there are lots of different LifeDefender™ products to choose from, as well as customization options for each product. We also have custom engineering options for specific products making this a great option for different applications and industries.
If you would like to know more about Austin Hardware's complete LifeDefender™ line visit: https://info.austinhardware.com/lifedefender