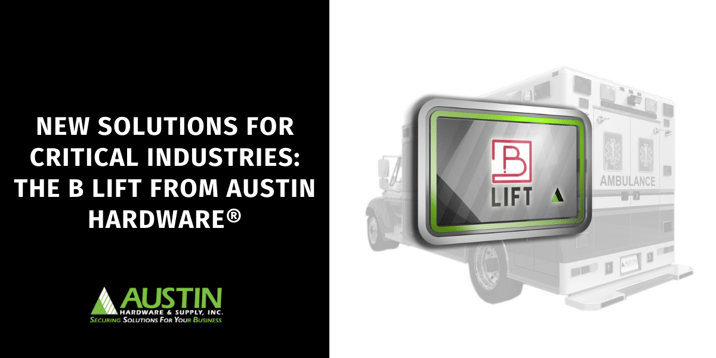 Austin Hardware® is a leading supplier for critical industries including life-saving devices for ambulances, ems, and other emergency vehicles. We are proud to offer the B Lift hydraulic bariatric power lift as part of our complete line of solutions for life-saving industries. We truly believe that this is a beneficial and innovative product, that will save lives, and make the jobs of our important first responders easier, and more efficient. Not only does our product provide safety solutions, but it is also durable, strength tested, and made in the U.S. with quality parts and craftsmanship. The average EMS response time is 14-16 minutes, meaning that each minute is crucial, we aim to maximize the time that emergency medical technicians can focus on response time while providing a safe way to accomplish that. Providing quicker response times for emergency medical care, as well as enhancing patient care is important to providing the best solutions for safety.
What is the B Lift?
The B Lift from Austin Hardware® is a hydraulic power lift designed to help lift bariatric patients for transport safely. This helps to improve the patient experience reducing both potential for trauma, as well as the time it takes to respond during an emergency. In addition to keeping patients safe, it also allows for the safety of first responders, who play a critical role in today's world. The bariatric lift helps to prevent body motion injuries for critical, front line EMT employees. Ambulance services only have so much time, and crew members respond to medical emergencies. The B Lift aids in supporting critical teams during emergencies to keep everyone safe, and facilitate the transport process.
How Does It Work?
The B Lift is a battery-powered, vehicle-mounted lift that assists in patient transport in and out

of the emergency vehicle as well as keeping EMT's safe during transport. It works with a single, push-button mechanism and has a weight capacity of 1,350 lbs. It is one of the simplest ways to keep patients and professionals safe while providing strength, durability, and functionality that is unmatched in the industry. The B Lift is compatible with both Type I and Type III ambulances and is easily installed.
Benefits
Fewer Injuries for Patients and EMT Professionals
Improved Response Time During Emergency Response
Easy to Use
Better Patient Experience
As part of our commitment to providing solutions for your business, as well as safety for critical industries we stand behind the B Lift hydraulic bariatric power lift as a solution for life-saving industries where every minute counts. Let Austin Hardware® provide solutions that work for you.
Find out more about the NEW hydraulic B Lift Hydraulic Bariatric Power Lift: https://info.austinhardware.com/b-lift