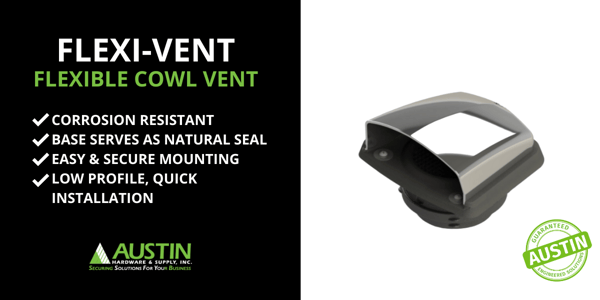 It's no secret that Austin Hardware® is in the business of offering solutions for your business, by creating custom-engineered products that are designed to be innovative, intuitive and perfect for a variety of industries. Through our quest to create innovative products, we were able to create the Flexi-Vent, Flexible Mounting Cowl Vent as a strong competitor in today's market. We listened to our customers' needs about creating an innovative design that was practical as it was original. With the flexible cowl vent, we solved three major problems seen on the market and was able to provide a solution for a variety of applications and industries. Ready to learn more? Keep Reading below.
FEATURES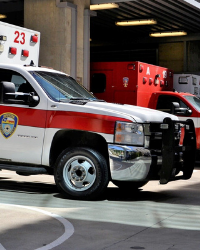 Easy to Install

Corrosion Resistant

Innovative

Flexible

Low Profile
INDUSTRIES & APPLICATIONS
Horse Trailers

Recreational Vehicles

Trailer and Truck Body
How Did We Come Up With Our Innovative Design?
It's simple. With all of our products, we listen to our customers' needs and pain points. Our engineering team has years of experience and works to create innovative solutions. We work to provide custom products with our Austin Guaranteed Engineered Solutions™. The Flexi-Vent is another great solution from our team. Through various studies and market research, we sought to create a truly innovative product that would set itself apart in today's market. As a result, the Flexi-Vent was created.
How Is Our Product Different?
We created this product to eliminate three significant problems that we believe exist in similar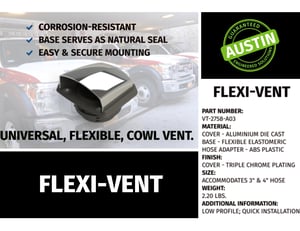 sizes to be used along with the cowl vents. We truly believe our innovative designs set this product apart from others on the market.
products on the market. First, the engineering team designed a rubber base that allows the vent to not only be flexible but also mount to different contours of various vehicles. In addition to the flexibility, this design allows for a natural seal keeping it water-tight. Next, we designed a mesh filter into the base, also allowing for easy installation for a variety of applications. Our final
innovative design idea came from the innovative hose adapter which allows for multiple hose
If you are ready to learn more visit: https://info.austinhardware.com/flexi-vent