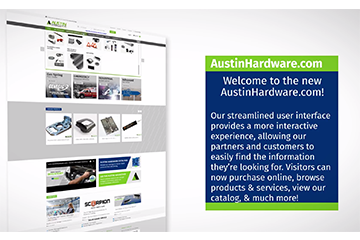 Thank you for exploring our new site!
You play an important role as our partner, and we're so grateful that you choose to do business with us. In addition to your purchase, we want you to be completely satisfied with your experience, so that's why we're proud to announce the new & improved austinhardware.com! Our streamlined user interface provides a more interactive experience allowing you to easily find the information you're looking for. You can now purchase online, browse products, learn about our services, & much more.
---
We've cleared the navigation clutter but kept access to high level resources right where you are used to finding them. Our reorganized, intuitive menu structure will help you find what you need easily. Our improved, highly visible rotating graphics make getting to the most used features of our site a simple click away.
Managing your account has never been easier with the Austin's Account Page.
-Review your spending activity
-Past invoices
-Use Account terms
-Store Credit Cards
-Update information
-Search by SKU or part name
-See shipments
-View our catalog
-Change company info, and much more!
We're committed to understanding the unique needs of your business, so we've also added a real-time feedback tool called "Hotjar". Hotjar combines analysis and feedback tools so that we can better serve you and your experience while visiting our online store.

With a modern design, an updated structure and new functionality, our new homepage represents the values of Austin Hardware and Supply, Inc, never settling for easy and always doing the right thing!