Why Do You Need Inventory Management Software?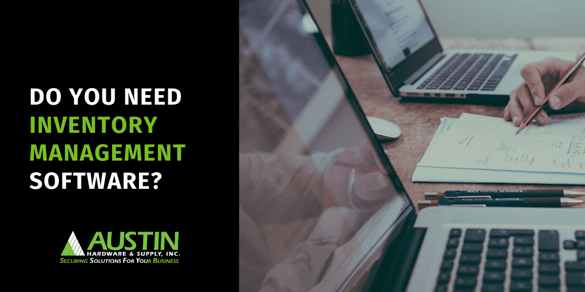 Inventory management is a crucial part of your business and having a solid system in place to help you run business is as important as your inventory. If your business depends on inventory you need to be sure that you are running things smoothly. This means preparing for the future, having the correct levels of inventory, monitoring your supply chain and more. If you're still doing things the old-fashioned way, it might be time to ask yourself: Why? Why deal with uncertainties, unnecessary business challenges, and headaches that ultimately cost you money when there is an easy solution for your business. If you're using out of date systems like spreadsheets, two-bin systems, and anything else leaving room for error, it's time to consider new methods for growing your business.
Inventory Management 101
You already know inventory is the backbone of your business. This means you need to have the right inventory to produce goods or supply to your customers. You also already know how important it is always to have the right inventory in stock. Doing so means preventing unnecessary and costly mistakes from happening: line shut downs, angry customers, missed opportunities…the list goes on. What if there was a way to manage your inventory and make sure that these mistakes never happen?
What Does Inventory Management Software Do?
Inventory management software serves many purposes, all of which help your business run smoothly and keep your inventory accurate. For starters, software can help you automate your business. With the rise of AI in manufacturing and business, creating a space for automation keeps your business current. It also allows you and your employees to focus on other important tasks. Automation allows you to track inventory, as well as forecast for changes in sales for different seasons, market demands and other changes. All of this means one thing, your inventory supply is accurate and backed by iron-clad data driven software. This means less time spent making decisions based off a spreadsheet, or bin system. Software allows for accuracy in your business, the kind of accuracy that saves you money.
Ready to take your business to the next level?
Do you feel like your business needs?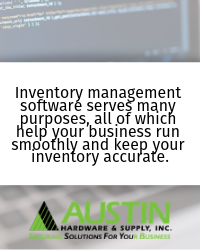 Organization
A plan
Automation
Fewer mistakes
Data Driven Accuracy
Ways to save money
A competitive advantage
If you answered yes to any of these questions, it's because you care about your business. You also care about standing out in your industry, planning, and ensuring long term success. If you're ready to take your business to the next level, you need reliable, accurate technology that will help take your business to the next level.
We get it, you take your business seriously. That's why at Austin Hardware we are serious about finding solutions for your business. Find out more about how our forecasting abilities and vendor management technology can help you run a better business.