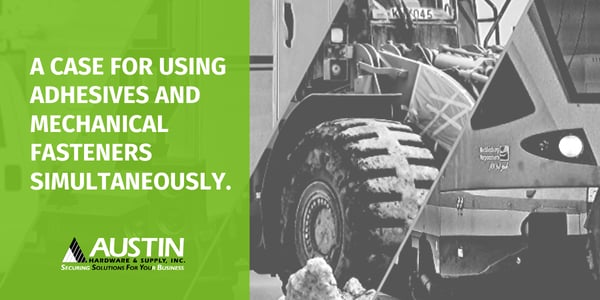 There's a tug-of-war taking place on production lines and assembly floors across numerous industries, but especially sectors under the transportation umbrella. It relates to the use of traditional mechanical fasteners versus modern adhesives.
Both have well-earned positions in the marketplace, as they have on our shelves at Austi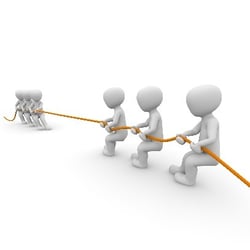 n Hardware®. So, we're not here to advocate for one over the other. The engineers, buyers, and other top executives at your company need to make decisions like this based on factors that are likely to be unique to you. Our goal in this space is to point out some of the benefits of both, and explain how, in some cases, using both in the same application could be beneficial. Mechanical fasteners have been used by man in some form almost since the first humans inhabited the earth. They have been used in assembly environments throughout history, reliably satisfying the requirements of safety, quality, and cost.
Just some of the benefits of mechanical fasteners include:
Predictable, Exceptional Performance - They eliminate the risk of faulty and potentially scrap assemblies by providing a visible fixing that is not subject to a failed bond scenario. Additionally, there are no thickness limitations; they offer low sensitivity to peel stresses and have no major residual stress issues.
Simplicity - Fasteners provide a simple solution to most assembly problems. They are simple to install with the right tools. They're not messy, nor require any specialized training to use, and provide a system of positive connection with low risk. They generally require no special preparation of mating surfaces as there is no risk of chemical created structural change. Dissimilar materials can be easily joined (though care is recommended to prevent the risk of galvanic corrosion).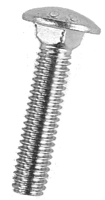 Flexibility - They allow for flexible timing of assembly. Quick transition from station to station is achievable without allowances for cure time. Conversely, in production environments where assembly jobs entail a trial-and-error approach, disassembly is achievable as frequently as necessary, and with no time limitation due to curing.
Environmental - They're not environmentally sensitive, and application can take place in most weather and ecological conditions. There's no need to provide specialized, temperature-controlled assembly areas, or fume extraction equipment. Finally, they have an extended shelf life, require only a dry storage environment, and maintain their value over time.
While traditional fasteners have been around nearly forever, the adhesives market, while certainly not "new," is experiencing rapid development. Manufacturers in the transportation industries are adopting and adapting to the latest adhesives technologies.
Benefits of modern adhesives include:

Corrosion Resistance – Adhesives work well in applications where the end product exposure to water and chemicals that may penetrate or damage mechanical fasteners is a factor. The most durable and most resilient component is not one with a dozen holes in it but a solid, undamaged piece. The elimination of holes reduces the opportunity for corrosion and improves the product's structural integrity in the long run. Adhesives also aid in preventing galvanic corrosion that may come from the joining of dissimilar metals, as is often the case when riveting the sidewalls of a truck or trailer body.
Weight Reduction – You will experience significant fuel savings in the transportation industry by lowering a vehicle's weight. It can also help to free up weight for installing additional components that give products new abilities and potential competitive advantage. While adhesives are not significantly lighter than mechanical fasteners, they do allow for the distribution of stress across the entire surface of a bonding area, as opposed to point-loads at each fastener. This can allow for the use of lighter or thinner materials.

Cost Savings – Adhesives can carry a lower cost per application, particularly when high-end or coated fasteners are required. A single adhesive can often lead to a reduction in orders, shipping, and stocking costs of multiple mechanical fasteners. Labor costs can be reduced relative to other joining methods such as welding.
Thermal Cycling and Vibration - Adhesives perform better against thermal cycling because they mitigate the stress from substrates' expansions and contractions. Adhesives also have a quieting effect due to their viscoelastic properties. Sound vibrations are dampened as they pass through adhesive bonds.
Strength Over a Large Surface Area - Advanced structural adhesives can offer stronger bonds than mechanical fasteners, particularly when the bond covers a relatively large surface area. Most "impact-resistant" structural adhesives are limited to a range of 15 to 20 J of impact strength, but some next-gen adhesives are stronger.
Aesthetics – Adhesives seal against moisture and are out of sight between substrates. This eliminates long rust streaks and allows for smooth exteriors and improved aesthetics.
Design Flexibility – Designers often select adhesives because they can be applied when parts or joints are accessible, or when it is more convenient. They can then be cured later using heat, anaerobic, UV light, or several curing methods in combination. Bonds can also be formed in places and at times when mechanical fasteners and welds are impractical or impossible. Adhesives are also advantageous when combining multiple substrates (e.g., metals, composites, wood, etc.) without having to puncture.
Additionally, adhesives can be cut and limit the damage as salvaged parts.
So, which do you choose? Again, we're not here to tell you which is better. In certain applications,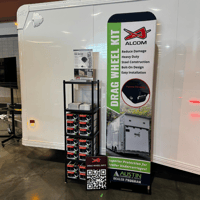 we might recommend a hybrid, or "belt and suspenders" approach. Fasteners used with adhesives can limit peel stress by applying the fasteners to the end of bond lines. The sidewalls or roofs of a truck body would be an ideal application for this approach.
While many modern adhesives cure quickly, it's often not fast enough to keep parts moving down the assembly line. In those cases, adding a few mechanical fasteners to hold parts in place while the adhesive is curing can be a solution. Finally, clamps are generally required to hold two pieces of metal together for adhesive bonding. However, that clamp can often get in the way. A few mechanical fasteners can take the place of the clamp and provide additional strength to the end product.
We invite you to consult our sales and engineering experts on what is best for your assembly.
Source Credit:
Challenge (Europe) Ltd., July 7, 2018 (https://www.challenge-europe.co.uk/some-advantages-of-modern-mechanical-fasteners/)
Machine Design, Drew Richards, June 15, 2018 (https://www.machinedesign.com/mechanical/what-s-difference-between-structural-adhesives-and-traditional-fasteners)