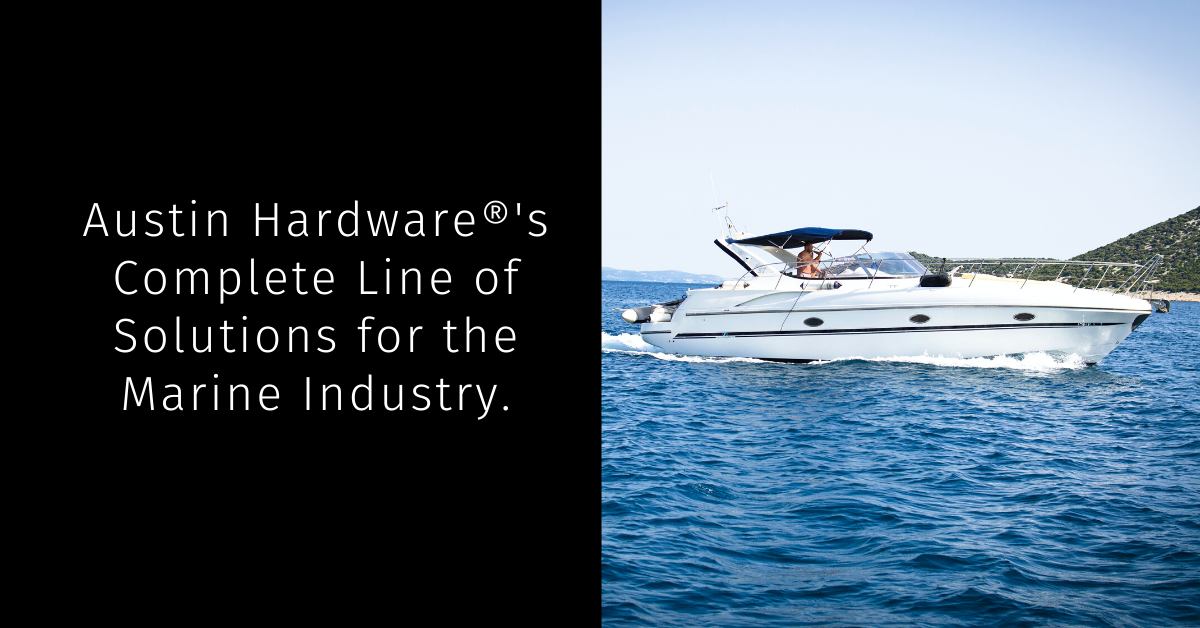 Austin Hardware® understands the unique hardware needs of the marine industry. We carry top of the line stainless steel door and hatch hardware, deck hardware, vents, and a diverse line of other solutions. In addition, many parts are available with a corrosion-resistant electro-polished finish, a fundamental requirement in the marine industry. We've worked hard to source valuable and reliable hardware solutions for marine vessels of all shapes and sizes. Whether you're a boat owner or a boat manufacturer, you know the value of the right parts and products. Keeping a boat well equipped is essential as they undergo a lot of weathering and have to meet strict safety standards. As part of our promise to find solutions, we supply a variety of products for the marine industry.
Ready to learn more? Keep reading…
Weatherproof Hardware and Sealants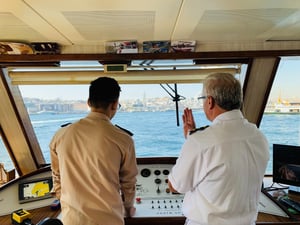 Weather and the elements are just some of the battles your marine vessel will face daily. That's why it is crucial to find quality, durable, and reliable boating and marine parts. Our hardware comes finished with a corrosion-resistant electro-polish that is a must-have in the marine industry.
What exactly does that mean?
First of all, to achieve this process, the outer layer of the metal is dissolved to remove surface contaminants that may lead to faster corrosion. This process creates a durable, long-lasting product. Next, our engineering team tests our products in different situations to ensure durability and quality. The entire process ensures quality and reliability, which is a guarantee we stand by.
In addition to hardworking hardware solutions, we offer a diverse line of marine sealants from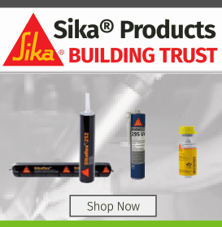 SIKA®. These professional sealants provide a great way to waterproof and seal different parts of your vessel. All of Sika®'s diverse range of sealants offer a great way to maintain your vessel's stability with their UV and weatherproof products. The entire Sikaflex® line of products is a reliable, easy to use, and proven strength that works in various applications. We have several different waterproof, UV, and fast-drying options to use in several different places for boats such as windows, decking, and more. Check out our complete line of Sika® products here: https://info.austinhardware.com/sika
Marine Storage
Let's face it; when you're on the water, storage is your best friend. From storing anchors to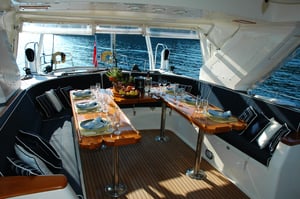 other critical safety equipment, your boat requires a lot of storage room. It is best if you have storage solutions that are both safe and functional. You don't want your equipment thrown about or to come flying out at a critical moment. At Austin Hardware®, we carry the right storage solutions to keep things stowed safely and securely while being able to fit sleek and stylish marine compartment requirements. Our line of drawer slides, gas springs, and various latches are the perfect solution for marine storage where space is tight and sturdy solutions are needed.
Lighting
Another important aspect of boating is proper lighting for safety regulations as well as cabin comfort. Marine lighting must fit special requirements not only for safety requirements but to fit in unique spaces. We carry the right lighting for a variety of marine needs, from quality LED lighting to different types of interior and exterior lighting to use in a variety of various applications. We stand behind our lighting products and ensure that they are quality, long-lasting, and provide maximum lighting solutions.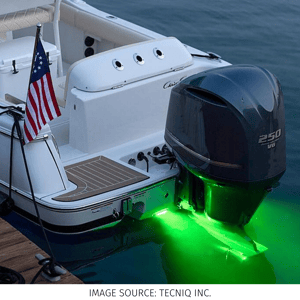 Handles, Hinges, Latches, Hand Rails & More
Again not only does our complete line of solutions for your boat, yacht, or other types of marine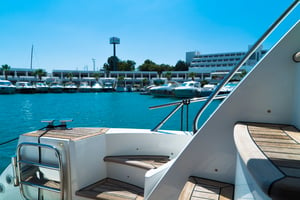 vessels provide a reliable solution, it also ensures a safe solution. Moving about a ship can sometimes present its challenges, whether you are out on the water or unloading and loading equipment, moving down small stairs, etc., you get the picture. When you are in motion, there is always the need for a handle, handrail, or other types of secure ways to make sure you are staying safe and stable. We carry top of the line handles, grab bars, lighted steps, and more. In addition to your safety, you want to know that the boat you are traveling in is secure. This is where our diverse line of hinges, latches, tie-downs, and more come into play. We know safety, and we have the right solutions for you!
If you are in search of the right products for your boat, yacht or other marine vessels you have come to the right place. We carry a diverse line of products, and our engineering team is ready to design the product you need. Whether you are a consumer or a boating manufacturer, our team of solution experts are prepared to work with you. Visit our contact us page to speak with a product expert.