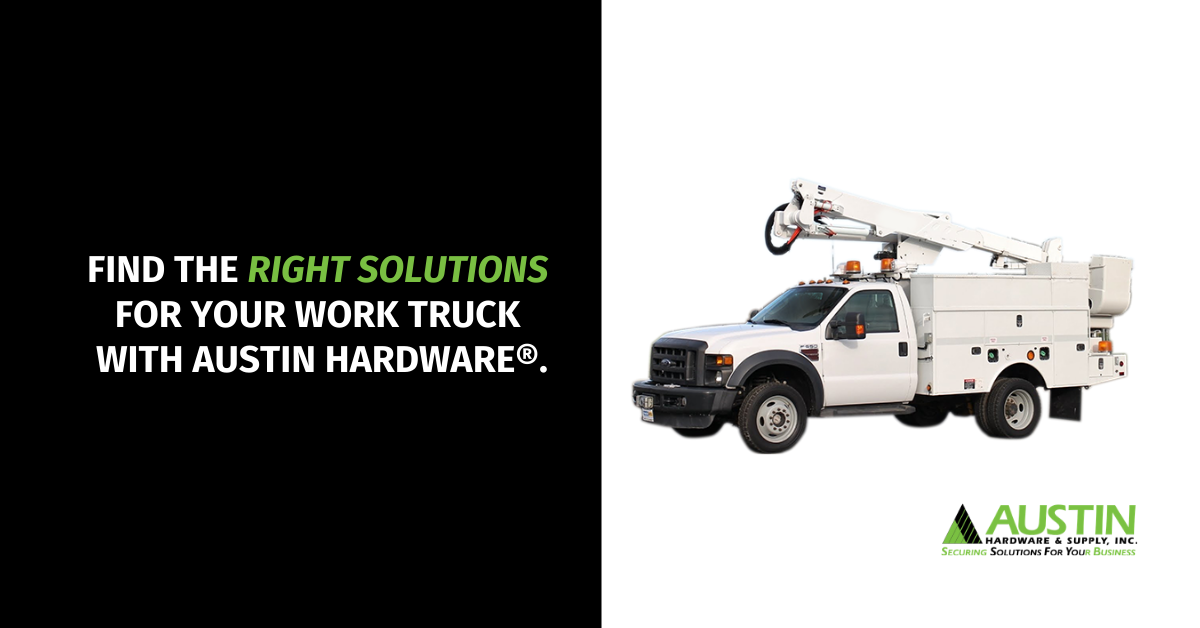 When it comes to outfitting your work truck with the best on the market, let Austin Hardware® be your guide for all things work-truck related. We carry the top of the line merchandise from lighting, drawer systems, handles, hinges, locking mechanisms, and more. Even better, Austin Guaranteed Engineered Solutions™ provides businesses like yours with state of the art products guaranteed to give you the solutions you need.
Front Drawer Release System (FDR)
Our patented Front Drawer Release system is the perfect solution for mobile applications, keeping your stuff safe, organized, and within reach when you need it. If you are looking for the ideal mobile storage solution for work trucks, emergency vehicles, rescue vehicles, maintenance trucks, utility vehicles, and more, this is the solution you need. The best part is that all of Austin Hardware®'s drawer systems only require a one-handed use, making it a simple, convenient solution. In addition to convenience, our FDR system offers a professional appearance for your access solutions to appear clean, organized, and official.
Genesis Drawer Release Systems
Our patent pending Genesis™ drawer release systems are simple, sleek, and the solution you need for your truck. We offer one of the most functional and thoughtful products on the market; these should be your go-to for your drawer release system needs.
Our two options for drawer release systems include the drawer release lite and the drawer release pro. Both are easy to install and designed to be user friendly, requiring only a one-handed operation. This easy to use installation and application makes our drawer release systems the perfect solution for work trucks, emergency and rescue vehicles, cargo vans, utility vehicles, and any other type of vehicle where you need organization and convenience.
Super Heavy Duty Drawer Slides
We are your one-stop-shop for engineering, designing, and manufacturing the telescopic linear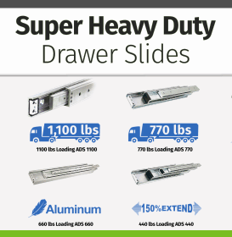 motion drawer slides you need. If you need high load capacity as well as sleek, convenient design, then you should check out our complete line of super heavy duty drawer slides. Designed with corrosion-resistant aluminum or super heavy-duty steel, we have taken the guesswork out of deciding which drawer slides you need. What does that mean for your business? Easy, convenient, and reliable solutions for a variety of applications, including super heavy-duty applications, emergency vehicles, data storage devices, and machinery and tool storage.
PowerMaster Locking System
Your tools are essential to you, and probably your livelihood, as well. That's why locking them up properly is the difference between a costly mistake or a peace of mind. We know how important it is to lock up your valuables because we know trucks. That's why our PowerMaster locking system keeps your valuables from theft, loss, and other unfortunate accidents. With our locking system, all locked compartments are locked with a simple push-button, you no longer need padlocks, or to install special latches or handles. It is a safe and straightforward solution you have been looking for.
At Austin Hardware®, we know trucks, and we know truck supplies. We are your source for truck-related hardware, parts, and products. Download our truck brochure here, or to connect with one of our product experts visit: https://info.austinhardware.com/contact-us