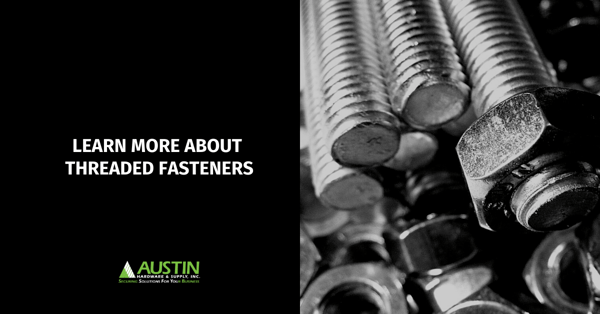 Threaded Fasteners
In the vast world of fasteners, threaded fasteners are the most common and easily recognized, even by the least mechanically inclined among us. At a basic level, they are screws, bolts, and nuts. Threaded rods and studs also fit the category; however, they are not as common in daily use. Fundamentals of Modern Manufacturing defines threaded fasteners as "… discrete hardware components that have external or internal threads for assembly of parts. In nearly all cases, they permit disassembly. Threaded fasteners are the most important category of mechanical assembly…"
The exact definition of the difference between a screw and bolt is ambiguous. Generally, but not without exception, a bolt is placed through a hole in the parts to be held together. A nut featuring matching threads on the opposite side then fastens the bolt to the assembled parts. Screws are typically used to assemble threaded objects, or can often make their own threads during installation.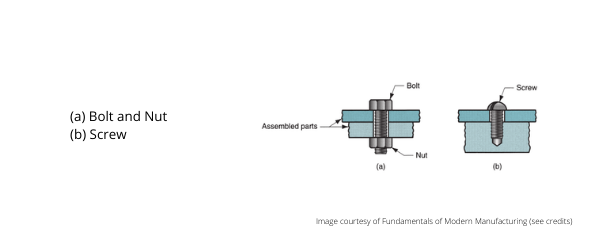 Threaded fasteners are found in commercial, industrial, and vehicular applications that are too numerous to count. According to the article, Mechanical Fastening: Threaded Fasteners and Blind Rivets, by Christop Gerritsen, the primary benefits of threaded fasteners include:
Able to join non-metals and dissimilar materials
Simple to install
Commonly found installation tools
Easy disassembly
Pre-threaded holes not required for self-tapping screws
Environmentally and user-friendly
Aside from threaded rods and studs, which do not have a head, all other threaded fasteners have three common components: threads, drive style, and head style.
Within those components, there is a myriad of options available, each with a set of benefits.
Basic Thread Designs
There are two basic types of thread designs: coarse and fine. Coarse threaded fasteners have a larger pitch with fewer threads per axial distance and a larger threadform relative to the screw diameter, while fine threads have more threads and a smaller threadform.
According to Steaven Klein, the National Sales Manager for Fasteners with Austin Hardware®, "Coarse threads are more prevalent in industry and are considered more of a "standard" thread. Fine threads are used more often in applications where maximum joint integrity is required. Since fine threads have more threads-per-inch (TPI), they are stronger than coarse threads. This is one reason why you find fine threaded fasteners used in many automotive applications."
Common Drive Types

Common drive types are slotted, Phillips, recessed hex, Torx™, and a variety of tamper-resistant drives. While common head styles are hex head, pan head, round head, flathead, and oval head. Klein also notes, "Most drives and head styles are chosen for the aesthetics of the product being fastened. In the case of tamper-resistant drives, they are obviously designed to make it more difficult to disassemble the product, except by the manufacturer or authorized repair centers. "
At times, choosing the right threaded fastener is as simple as finding a replacement for one that has worn out. In the case of a manufacturing environment, those decisions are not made lightly, as engineers may design a specific type of fastener for its unique set of features and benefits.
Whether you need that drop-in replacement or help to specify a part into an application, Austin Hardware® has the inventory and expertise to help. Have specific questions? Visit our Contact Us page to connect with a product expert.