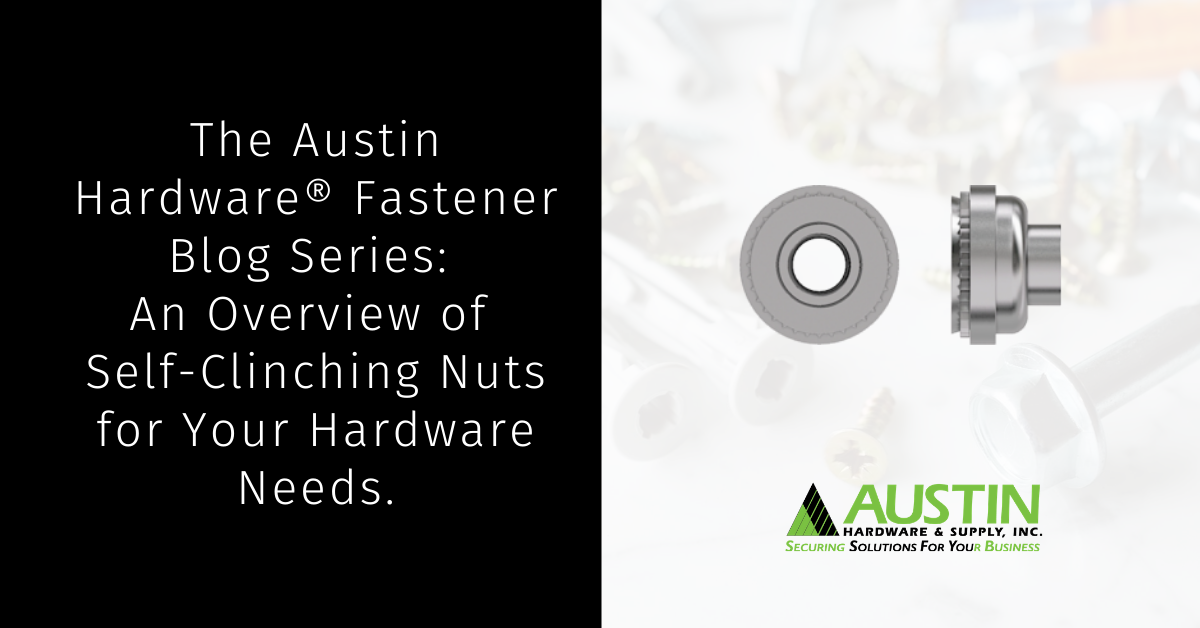 In a previous post, we discussed in broad terms the basics of self-clinching fasteners. We noted that self-clinching fasteners are typically used for metal assemblies that may be too thin for tapping or in applications where it's not feasible to employ stamped or extruded threads. They're found in everything from household appliances and electronics to medical, telecom, and automotive equipment.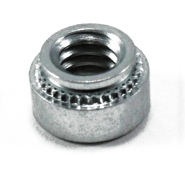 The three primary forms of self-clinching fasteners are Nuts, Studs, and Standoffs. Standoffs are used most often in Printed Circuit Boards and electrical assemblies to protect the circuitry. Studs present a threaded fastener into the product allowing for the mounting of essential components. We'll dive deeper into those two specific self-clinching fasteners in future posts.
This blog is going to take a little closer look at self-clinching nuts.
Self-clinching nuts provide strong, load-bearing threads to accept bolts and screws in thin sheet metal applications. They're typically pressed into the metal using a manual or hydraulic press and swage the surrounding metal, which makes them a strong and permanently affixed component.
An important note about tooling from Steave Klein, National Sales Manager for Fasteners with Austin Hardware, "Clinch nut Installation tooling is commonly found at many sheet metal fabricators. Some clinch nut manufacturers make their own tooling systems while others do not. There are also manufacturers of clinch fastener tooling that do not make the fasteners. This allows end-users many choices when it comes to installation tooling."
Reduced head, flanged head, and countersunk (flush) heads are available depending on the clearance requirements of your application.
According to PSM, a leading supplier of self-clinching fasteners, the advantages of self-clinching nuts include:
• High torque resistance
• Reverse side of the sheet remains totally flush
• Small and neat, ideal for all electronics or precision equipment
• Easy assembly with any squeeze-action press
Various materials and sizes, including widths and profile heights, are available to fit any sheet thickness or space limitations.
Also, according to PSM, among self-clinching nuts, there are various styles available to meet the needs of a myriad of applications.
Flush nuts

offer a flush finish on both sides of the sheet.

Blind nuts

limit screw penetration and offer a barrier against foreign materials entering the thread.

Floating nuts

allow for mating hole misalignment.

Locking nuts

, with and without a nylon insert, are available and provide a prevailing locking torque feature that can stand up to constant reuse.

Nylon broaching nuts

also lock and can be installed closer to the edge than standard nylon locknuts.

Thread lock feature nuts

are all-metal thread locking nuts for added vibration resistance.
Austin Hardware® can help you with all of your clinch fastener needs. Our customer service professionals can help you choose and procure the right type of clinch fastener to meet your needs. Let us help you via online chat, send an e-mail to sales@austinhardware.com, or call your nearest Austin Hardware® location.