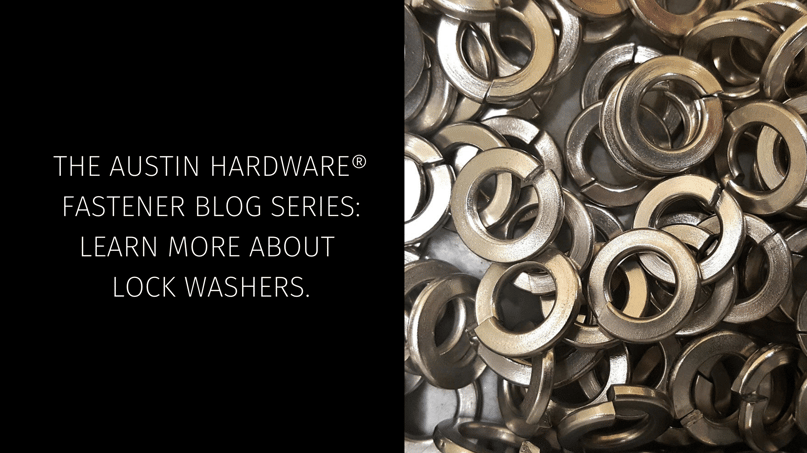 Lock washers work on the nut side of the fastener, supplying added tension to an assembly to help prevent nuts and bolts from turning, slipping, and coming loose due to vibration and torque. Thus, their use is common in the transportation industry and on commercial products such as washing machines where vibration is a significant factor.
There are many types of lock washers, each functioning differently depending on the application. However, the basic concept of holding the nut and bolt in place is the same.
There are quite a few different types of lock washers.


Countersunk – Countersunk lock washers are for use with oval or flat head screws with 82 or 100° c
Dome type – Dome type lock washers aid in wide-area load distribution in applications where thin and/or soft materials are used, and high torque tightening is required.ountersunk angles.
Dish type – Dish lock washers are like their domed counterparts; except they can be used when less tightening torque is needed.
External Tooth or "star" type – External tooth lock washers, better known as "star" washers, have teeth on the outside of the ring. Their optimum use is with larger fastener heads.
Internal type – Internal lock washers are, as you might expect, the opposite of external or star type washers, in that they have teeth in the inside of the ring. These are best suited for use with fasteners that have smaller heads.
External/Internal combo type – Combo type lock washers have teeth both inside and out and are also best to accommodate larger fastener heads.
Helical or "split" type – Helical or split washers look like rings that have uneven ends. They are one of the most common types of lock washers. The ends of the split washer bite into the fastener to prevent it from turning while the coil flattens. But you caution must be used when tightening a split washer as excessive torque can flatten it too much, mitigating its locking capability.
Pyramidal type –When high tightening torque is a requirement in heavy-duty applications, the internal teeth and sharp points on the ends make Pyramidal lock washers a top choice.
Wedge-Lock Washers – Wedge-lock washers are designed and tested for use with bolted connections where severe vibration is a factor. According to the Nord-Lock Group, the original manufacturer of the wedge-lock type washer, they are designed to, "… utilize tension instead of friction in order to secure bolted joints exposed to severe vibration and dynamic loads."
Another critical element of the lock washer is its material. Choosing the right material for the application, often determined by the environment, is important to ensure it will not break down and lose the ability to lock in place. Choosing a lock washer that matches the material of the bolt is generally a safe guideline to follow. Most lock washers are made from either carbon steel, stainless steel, aluminum, K-Monel, bronze, zinc, or phosphor bronze alloy.
There are two common mistakes users make with lock washers.
Often, attempts are made to use lock washers to secure a bolt or nut that is too small for the hole in the part being secured.

Users will also try to employ a lock washer to tighten a bolt or nut that is too long. Lock washers should not be used for either of these purposes.
Austin Hardware® carries a wide variety of washers for many applications. For help, check out our website, engage us in a chat session, e-mail our customer service department, or contact your nearest Austin location.