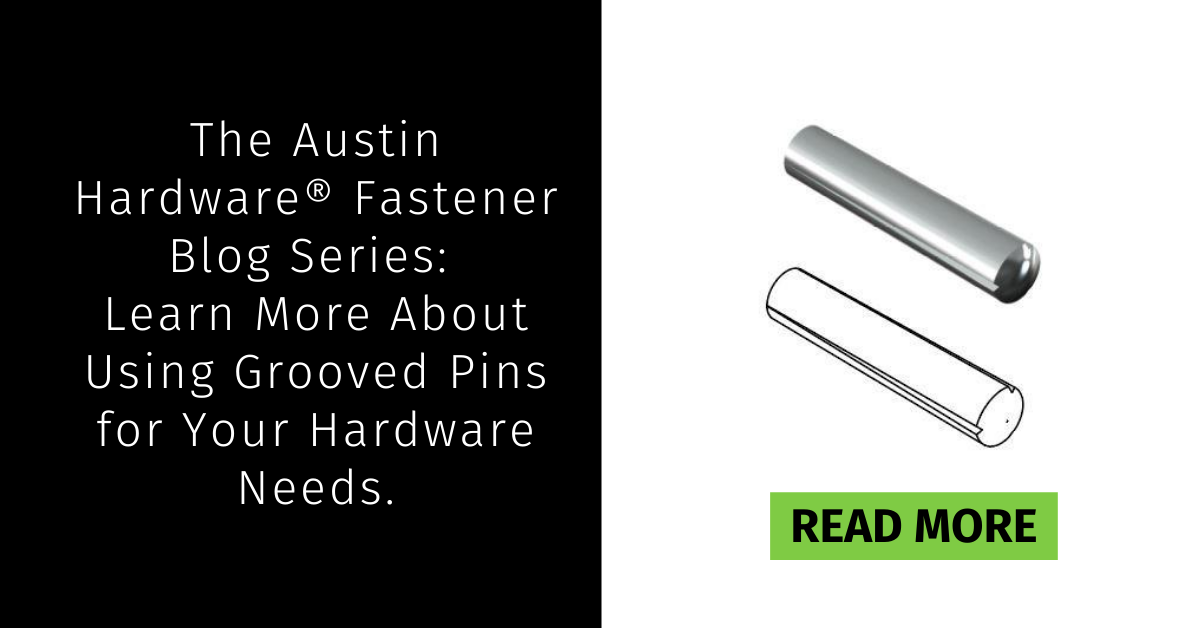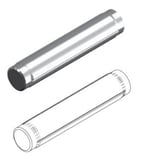 A grooved pin is a solid pin, similar to a dowel, except with swaged grooves (or flutes) that run vertically. Ordinarily, there are three grooves that can vary in length. They can run the entire way down the pin to as little as just one-third the length.
Applications: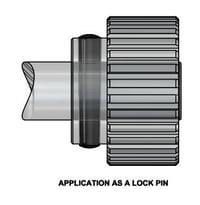 Locking collars
Linkage or Hinge Pin
Valve T-handle
Spring anchor
Roller and Stop pins
Typically, sizes range from 1/16" to ½" in diameter, with lengths up to 3-3/4". Grooved pins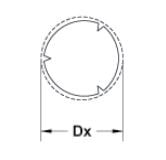 generally are used in friction fit holes, creating a connection that is almost as strong as a dowel with the added benefit of excellent vibration resistance.
The primary functional difference between a grooved pin and a dowel is that, while displaced material of the swaged grooves increases the pin's diameter, the grooves close when pressed into a hole. This makes grooved pins appreciably more pliable than dowels, resulting in pins that can be used in holes that may not be formed to an exact size or circular shape. Tolerances for a dowel are considerably tighter. Grooved pins can also be removed and reused more easily because of their enhanced pliability.
There may also be smooth pilot sections at each end of a grooved pin, just before the grooves start to allow for easier alignment prior to pressing it into the hole.
Pins with grooves smaller than full length (i.e., one-half or one-third length) are designed to grip only along the grooved portion. The smooth part allows for free rotation of one component in applications where multiple components are stacked.
According to fastenerengineering.com, "Grooves may be parallel or tapered. Parallel grooves give a tighter fit. This means that pins are less likely to work loose when subjected to vibration, but they require higher insertion forces."
Low Carbon and Alloy steel, as well as Stainless Steel and Aluminum, are common materials for grooved pins. Various finishes are also available.
Benefits:
Outstanding locking capability
Installation is easy and fast with a hydraulic press, air cylinder, or even a simple hammer
Preparation to install is simple, requiring only a basic hole
No reaming, milling or tapping required
Wider hole tolerances than other types of pins such as a dowel
Greater shear strength than spring pins
Highly vibration resistant
Can be used in many different applications
Austin Hardware® can help you with a wide variety of fastening pins. Review our online selection, or for even more detailed information, see the Pins pages in the PDF flipbook version of our catalog. As always, you can engage us in online chat, call your nearest Austin Hardware® location, or send an e-mail to sales@austinhardware.com.