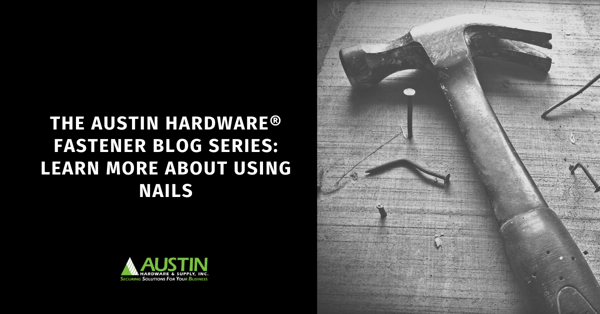 If you're in the construction or woodworking business, you're using nails every day. Homeowners often find themselves looking for just the right nail for their DIY projects. Even the core customers of Austin Hardware®, which are in the transportation and metal fabrication businesses, industries in which nails are not a predominant fastener, find the occasional need for nails for different projects such as constructing shipping containers for their products.
According to Steave Klein, National Sales Manager for Fasteners with Austin Hardware®, "Nails are the simplest of fasteners both in design and how they're made. One end has a head; the other end is sharp, and they're available in different sizes and materials. That said, there are many different types, so just as with any fastener, the application should determine the nail you choose."
The folks at homestratosphere.com have put together an extensive list of different types of nails used in construction ranging from the common box nail to upholstery nails and staples.
Frequently, for jobs requiring a large volume of nails and those where the space to apply them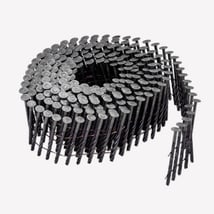 with a traditional hammer is limited, nail guns are used. Nails are available in collated strips or coils, as opposed to loosely boxed, for use with nailer guns. Different types of collation include paper, plastic strips, plastic bands, and glue (more often used in staples and floor cleats). Finepowertools.com does a wonderful job of explaining the purpose of different types of collation.
There are two primary types of nailer guns: angled and straight.
Angled nailers offer more room to work and better control in tighter spaces than straight nailers, such as around doors and corners. Nails for an angled nailer are a little more expensive. Also, since nails are collated at different degrees, you have to be careful to get the correct collation angle for your nailer.
For large projects in which you aren't so concerned with small spaces, corners, or edges, a straight nailer is all you might need. The nails designed for straight nailers tend to be thinner, so the nail head won't be as visible in jobs where aesthetics are important, or the impediment of a protruding nail head must be minimized. Straight nailers are difficult to fit into tight spots, so they're used primarily in places where the surface is visible and easily accessible. While not as precise and agile as angled nailers, they're great for the basics. The nails are also a little less expensive.
If you've got a VMI Program for fasteners and hardware, or are contemplating one, consider adding some nails. Austin will be happy to source and supply a balanced selection of nails for you to have on hand.