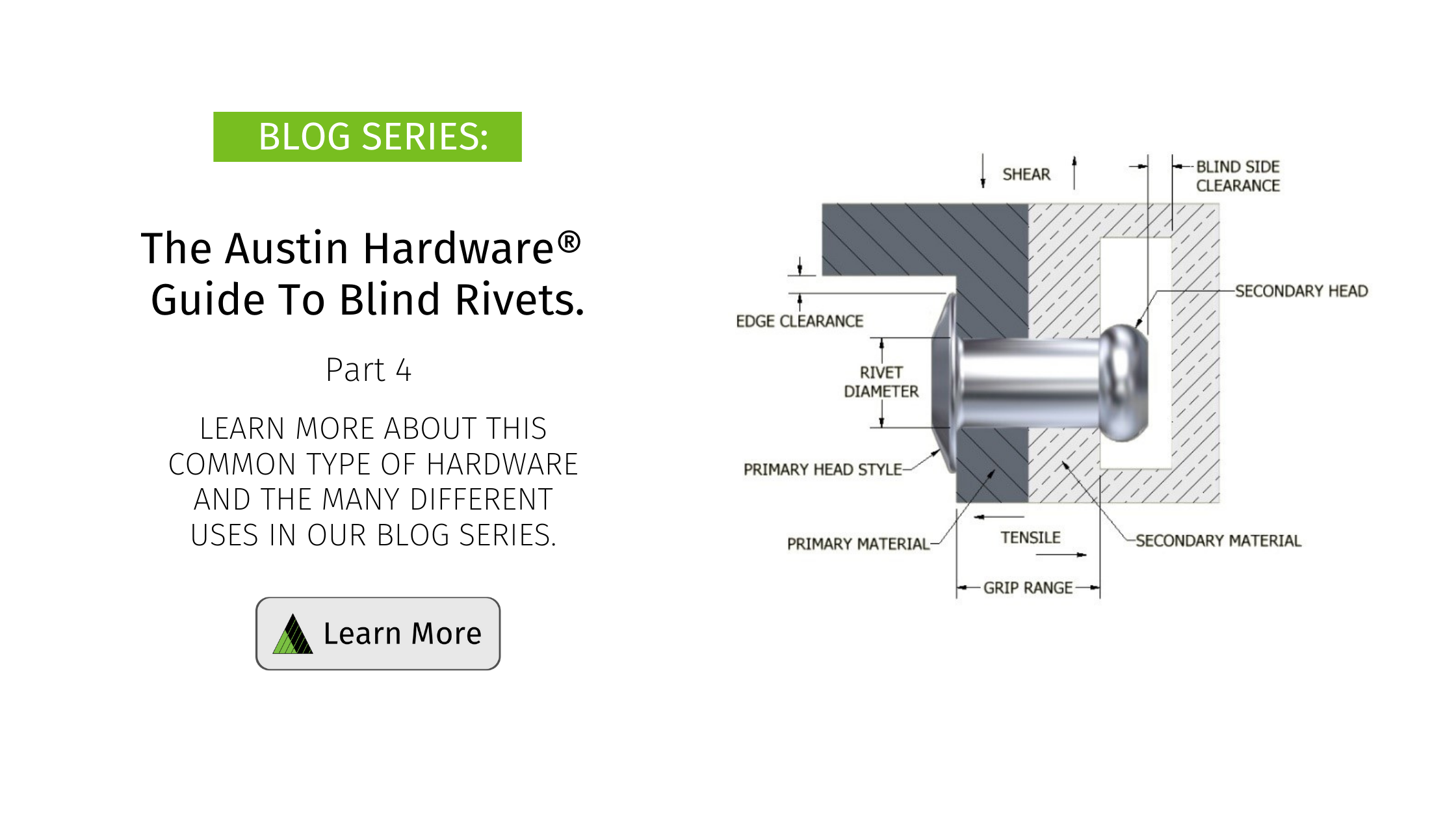 This is Part 4 of a 4-part series on Blind Rivets
In the first three parts of our series on blind rivets, we discussed the history of blind rivets; the most important factors to maximize joint integrity (grip range, hole size, material, and installation tooling); rivet selection (material, diameter, grip range, head style), and the most common types of blind rivets (drive-pin and break-stem; open-end, closed-end, self-plugging). To review any of those posts, please click on any of these links.
In this final installation, we'll break down some other variations of blind rivets. There are many different styles of blind rivets for specific applications, including different types of structural blind rivets.
Structural blind rivets are required for applications requiring higher load and vibration tolerances. They have higher shear and pull-out strength than standard blind rivets. Many offer a wide grip range, while most have exceptional clamping force. While they're not quite a replacement for a blind bolt, such as the Huck BOM, or heavy hex bolt, they are a great option when a standard blind rivet just won't suffice.
Structural blind rivets have either an internal or external locking mechanism that holds the stem (mandrel) in place. The remaining mandrel increases shear and pull-out strength as well as provides improved vibration resistance. Additionally, wide grip ranges offered with multi-grip versions allow them to be used in many applications, helping reduce the number of fastener sizes a manufacturer may need.
Most of the major producers of blind rivets, Huck, Stanley Engineered Fasteners (the Avdel and POP brands), and

Industrial Rivet, offer a myriad of choices.
Huck's offering includes the HuckLok®, which features double-locking action clamps that from both sides to maximize the integrity of the joint.

The Magna-Lok® is a hole-filling, multi-grip fastener that offers excellent gap pullout and moisture resistance. The locking mechanism is internal and therefore requires no special nosetip on the installation tool.
Auto-Bulb™ and Magna-Bulb® are both bulbing fasteners with high shear and pullout strength. The former has a tapered lead-in point for automated, high-speed assemblies; the latter offers a broader bearing surface for high pullout strength in thin materials and oversized holes. Similar characteristics can also be found in Avdel's Avibulb® and Avibulb® XT.

FloorTight's® self-countersinking design is ideal for consistent installations in plywood and plymetal vehicle floor applications. Finally, Magna-Tite® has a water-resistant sealant for oversize holes and repairs. This trifurcating blind rivet offers a large blind-side footprint for use in thin or low-strength materials.
Multi-Grip rivets are best suited for applications where different material thicknesses typically require several rivet sizes. POP's® Multi-Grip™ is a good example. Avdel's Avex brand is the original multi-grip

blind rivet, while the Monobolt® is also a multi-grip structural blind fastener that provides a fully sealed joint and visible lock.
Other types include POP® V-grip®, which has an extended grip range and a highly aesthetic in-place appearance, as well as their LSR (Load Spreading Rivet) with a secondary head that forms large "folds" to provide a larger bearing surface that resists the pull-through or cracking that can occur from a standard rivet.

Grooved Blind Rivets have grooves around the body to provide enhanced gripping power for use with softer material such as wood or plastic. The grooves embed into the material to provide an extra measure of holding power.
Soft Set Blind Rivets are similar to standard rivets but manufactured from softer materials such as aluminum. The mandrel breaks with less force than other blind rivets, making them suitable for use with more brittle materials. Typical applications are metal to plastic, wood, or fiberglass; or plastic to plastic or other soft materials of low resistance such as furniture, packaging containers, or other plastic components.
As we've learned over this series, there are many types of blind rivets suited to particular needs. Austin Hardware's team is happy to answer any questions you might have about which blind rivet is right for your application.
For more information, contact your nearest Austin Hardware® location today.