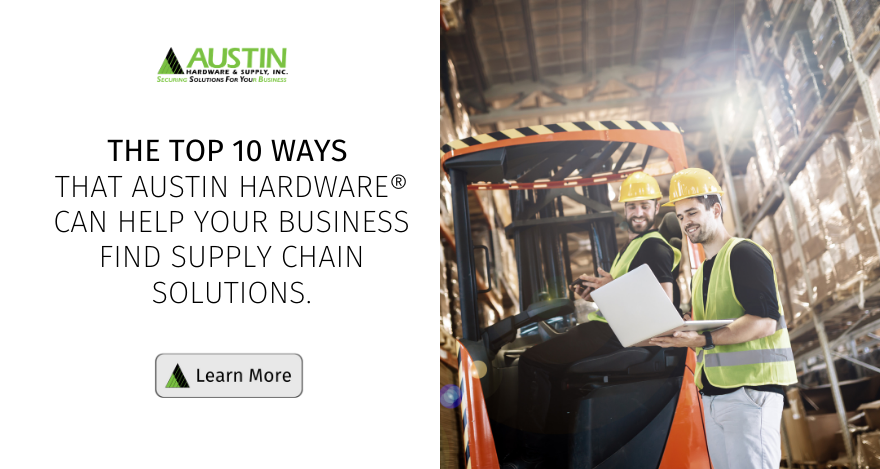 At Austin, we seek to provide the best solutions for our customers by delivering value-added solutions for various aspects of your business. We are more than just a hardware company. We are a solutions provider.
If you are ready to find the best solutions for your business, read our top 10 ways to help your business run smoothly.

1. Simplify Your Logistics - As a one-stop shop, Austin Hardware® is here to help you bring simplicity to your business. We can help with sourcing, logistics, shipping, inventory supply, and more. Even better, with our high assortment of in-stock products and custom engineering capabilities, we are here for every step of your business.

2. Bring Clarity to Your Supply Chain - When you've got too many moving parts, your business can get a little confusing. We can also help you bring clarity to your supply chain and peace of mind to your team. Part of our Vendor Managed Inventory services help you see the big picture of your business instead of just the day-day paperwork, purchase orders, and more.

3. Access to Real-Time Data - Along with many other things, our Able II™ solutions team provides you access to accurate data that lets both our team and your team keep up with crucial inventory and forecast for future needs. When you have solid numbers in front of you, your business can make informed decisions that positively impact your business's future.

4. Perks for Enterprise Customers - As a business or Enterprise Customer, you have certain advantages that our regular customers do not have access to.
Some features of our enterprise account holders include:
Specific Price List




View ALL Order History




View ALL Invoice History




Track Shipments




Purchase With Account Terms




Save Company Credit Cards




Update Company Info




Use Tax-Exempt Status




Enhanced Security & More.





5. 9 U.S. Locations

- One of the strengths of Austin Hardware® is our 9 U.S. locations spread throughout different regions of the U.S. These strategically based locations allow us to serve our large customer base best. Thanks to these many locations, we can tackle managing our customers' supply chains and help them consolidate their vendors.



In addition to our 9 locations, we have five regional call centers dedicated to providing best-in-class customer service. Our multiple locations allow us to provide fast delivery via economical ground shipping for most orders. We offer same-day shipping for most orders placed by 5 p.m. EST, which means we're able to reach over 65% of U.S. customers overnight, and 95% in no more than two days.




6. Access to More Hardware

- We have an extensive

online catalog

, and we make it easy to find the right hardware with our user-friendly website. We also have more in-stock parts and products than our competitors. We only work with the best brands in the business and guarantee quality products and well-sourced hardware. We serve a wide variety of industries, including automotive,

work trucks

and other utility vehicles,

RVs

, marine, ATV, farm equipment, tiny homes, and more.



7. Vendor Consolidation

- When it comes to your business, a great way to keep things simple is to consolidate the number of vendors you manage. Our

Able II™

Vendor Managed Inventory

services are a great way to streamline your efforts and save you valuable time, money, and other precious resources.




8. Over 60 Years in Business

- Since we opened up shop in 1960, we have done one thing consistently finding solutions for the many different businesses we serve and always providing excellent customer service. We provide innovative and reliable solutions to a variety of companies we serve.
It is built into our culture and values to go above and beyond to serve those we do business with. Our track record can show that we've excelled at providing solutions for businesses in many different industries for

over 60 years

. Download our official line card to find out more

here

.



9. Engineering Capabilities

- With our exclusive engineering capabilities, we can be your one-stop shop which means you streamline your business, simplify your sourcing and save money. Austin Hardware and Supply, Inc. is ISO 9001:2015 certified for hardware and fastener products. Certificate of Conformance, Material Certifications, Chemical, and Physical Analysis, and PPAP Certification available.

Click here for our ISO Certification document

. We can work with you every step of the way, from prototyping to production.



10. More Solutions Than Our Competitors

- At Austin Hardware®, we offer you more solutions than our competitors. As you can see from the options above, we have many solutions and are never a one-size-fits-all solutions provider. We have served businesses just like yours and have thousands of in-stock products.
Check us out online to learn more about our solutions for businesses just like yours: www.ahs.us