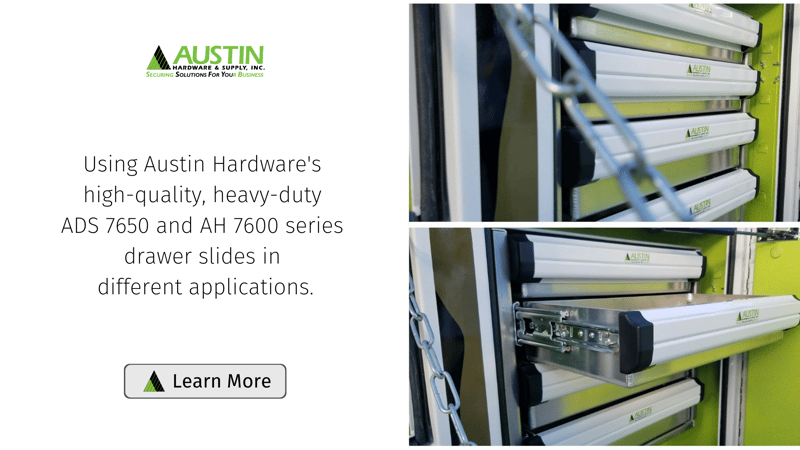 The ADS 7650 and AH 7600 series side mount drawer slides from Austin Hardware® are high-quality, heavy-duty slides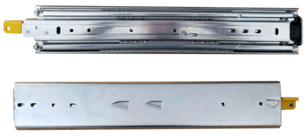 representing two of the best drawer slide options available.
Both are found extensively in emergency vehicles, utility bodies, cargo vans, maintenance trucks, recreational vehicles, and many other vehicular and non-vehicular applications. This is because their durability, flexibility, and ease of use are second to none.
Both series' have a load rating of up to 500 lbs. per pair, making them suitable to store all types of valuable cargo. The slides are tested at the 18" length but have been shown to perform to this rating up to 28".
The AH 7600 is the original, non-locking version of this slide. It is sold in pairs for applications where a lock is not required or desired.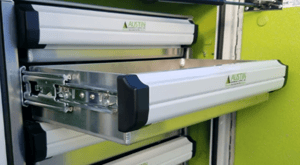 The ADS 7560 series slides have proven to be the perfect complement to Austin Engineering's patented Front Drawer Release system because of their capability to lock in both the fully open and fully closed positions. An intuitive yellow trigger is included on the front of the slide to disengage from any position.
While most of our customers use their drawer slides on, well, drawers, we've seen other creative applications. For example, delivery vehicle manufacturers have used our slides on the bulkhead sliding doors that separate the driver from the cargo area. The bulkhead keeps the driver and passenger safe from potentially flying cargo in the event of an accident and allows for better organization at the back of the vehicle. Ball-bearing slides allow for smoother door movement than a typical sliding door track, allowing fast and easy access for the driver to the cargo area without the frustration of the door sticking or falling off the track.
Another interesting application for these slides is for stacking tool boards side by side. Whether on a fire truck, utility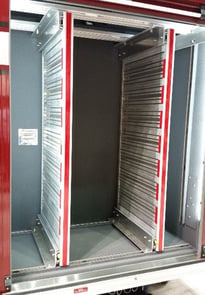 vehicle or in your workshop, stacking tool boards in this manner allows for maximizing limited space. The smooth action of our drawer slides makes moving the boards quick and easy while giving the user convenient access to everything they might need.
While it's unlikely you'll ever need to replace one of your ADS 7650 slides, each side (left hand and right hand) is sold individually. They're also available in 16 different lengths ranging from 10" to 60", making them the most versatile and practical drawer slides available.
If you have any questions about incorporating the ADS 7650, AH 7600, or any of our other drawer slides into your application, contact your nearest Austin Hardware® location. Our account managers and engineering team will be happy to discuss it with you.