Many manufacturers, whether they're in a wheeled vehicle or other industrial market, have in common the need to find the right latch for their doors or compartments. But how do you know which type is best for your application, and what are the critical factors that go into the decision?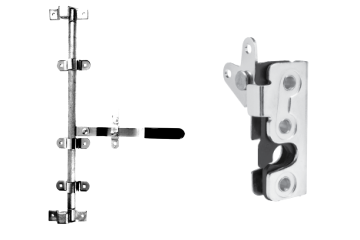 Certainly, every project is unique, with a different set of factors driving the decision of which type of latch is best. But in the end the decision should be dictated by the application, and how the user needs to secure the door.
Complicating matters is the fact that there are thousands of styles of latches, with a multitude of options, features, and aesthetics.
To simplify the process, we've narrowed the choice down to 3 basic major categories:
Deadbolt Latches
Slam Latches
Compression Latches
Deadbolt Latches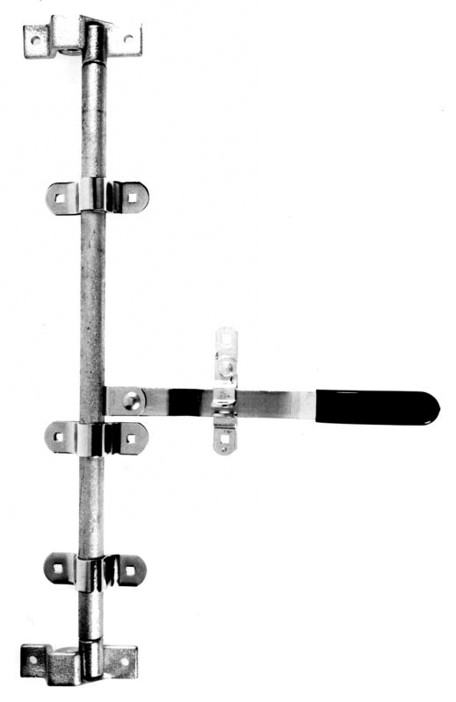 Deadbolt latches are generally used when security is the utmost requirement. These types of latches have been used from the very beginning to secure doors and access panels in wheeled vehicle and industrial markets. Deadbolt latches require a manual operation, usually by turning the handle 90 degrees clockwise or counter-clockwise, to engage the latch. When you need a positive latching or secure closure, deadbolt latches have been the predominant latch used by fabricators. Examples of deadbolt latches include "bar" or "cam" locks which are typically used on the rear doors of semi- or cargo trailers and large industrial enclosures, and simple quarter turn lock cylinders which are often seen on small cabinets.

Slam Latches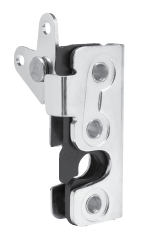 Slam latches have been used for decades to secure most types of compartments and enclosures. They provide a very positive latching action, which is especially important to keep people secured safely inside a vehicle. The slam latch is the simplest operation of the 3 categories and typically allows the user to engage and disengage the latch with one-hand. To disengage the latch the user simply pulls up on the handle, then swings or "slams" the door closed to engage the latch with a strike point on the door opening. Common slam latches have a spring-loaded bolt that pops into a receptacle to latch the door. Examples include the latch on a tool box in the back of a pick-up truck or the door on a utility body. Another very popular slam latch is a rotary latch, like what is found on automobile doors. The rotary latch utilizes mechanical jaws that grip around a round a striker stud. Keep in mind, personnel restraint doors for industrial vehicles are subject to FMVSS regulations and typically require multi-point latching requirements to be compliant. You can learn more about multi-point latches in our supplemental post "Single vs. Multi-Point Latches".
Compression Latches
Compression Latches are newer to wheeled vehicle and some industrial markets than are deadbolt and slam latches; and are used when you absolutely must ensure that what is inside your enclosure is protected from the elements. To that end, compression latches create a water tight, dust tight, and air tight seal for your compartment. They're an especially good choice for NEMA rated, UL rated, and IP65 (or similar) rated enclosures. The compression latch squeezes the door seal on your enclosure so that you maintain a good seal all around. Most compression latches are smooth and easy to operate and can also help to eliminate rattling within the latch system. There is a wide range of sizes of compression latches that allow you to choose one regardless of the size of your enclosure. Typical applications for compression latches include electrical enclosures, fire truck compartments, and utility body compartments. The brief (:46) video below from our vendor partner, Southco, does a great job of demonstrating compression latches.

Summary

There are many great latch options available to manufacturers in wheeled vehicle and industrial markets, but the decision for what's best in your application can and should be driven by the most critical factors for your specific application. The choices can be narrowed down to three basic categories: deadbolt latches, slam latches, and compression latches.
Deadbolt latches are generally used when security is most important. Slam latches offer a very positive latching action, which is especially critical to keep people secured safely inside a vehicle. Compression latches are used when protecting your cargo from water, dirt, and damaging wind is most critical.
Each of these latch types can be applied as a single or multi-point system, about which you can learn more HERE.