Fastener Series – Blog Post 19A (Fastening Nuts)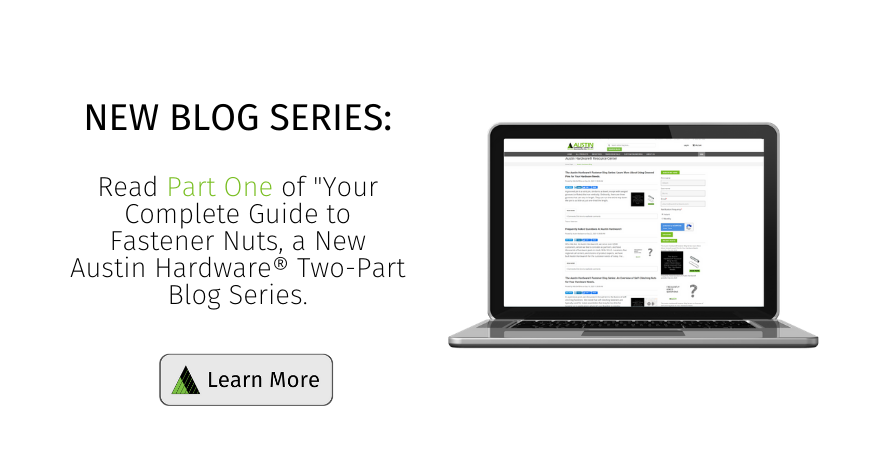 Fastening Nuts are a type of fastener with a threaded hole used along with a mating bolt to attach two or more parts. A nut is one of the most common fastener types in the world. Although common, there are still quite a few options for choosing depending on your application or the aesthetic you're seeking.
This blog is the first of a two-part series on fastening nuts. In this article, we'll break down just a few of the most common types of "standard" nuts. A later post will take a look at "locknuts."
The most common nuts are Hex Nuts. They're simple, hexagonal fasteners with internal threads that screw onto the shaft of a bolt.
Also very common and similar to hex nuts are Square Nuts. Compared with a standard hex nut, square nuts put a greater surface area in contact with the part being fastened, thus providing better resistance to loosening. Another benefit of square nuts relative to hex nuts is that their square shape makes them less likely to lose their shape (become "stripped" and rounded off) with repeated loosening and tightening.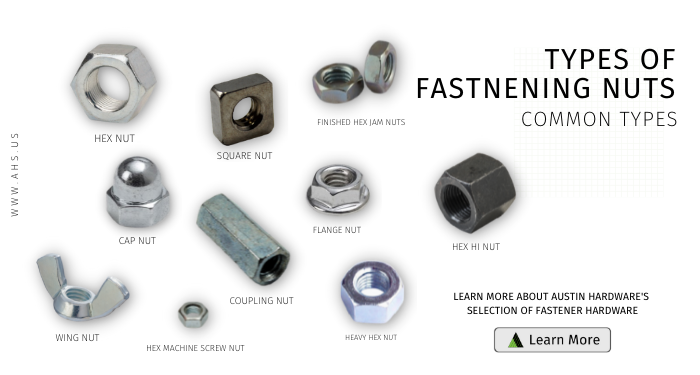 Cap Nuts, also commonly known as Acorn Nuts, have a domed end that encloses the external thread of the bolt that protects both the bolt itself and objects that might come in contact with the sharp, unfinished end of the bolt. The domed end also provides a more finished aesthetic.
Threaded Wing Nuts have surprise "wings" on each side of the body to allow for easy installation by hand. These no-tools required nuts are often used in applications where the nut needs frequent removal.
The integrated wide flange on one side of a Flange Nut serves as a fixed washer to distribute the pressure of the nut over the part being secured, lessening the chance of damage. This aspect is especially beneficial in applications where the fastening surface is uneven. The increased surface area of the integrated washer reduces the possibility of the nut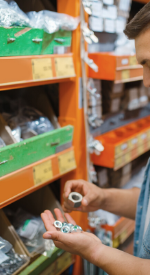 loosening should the surface be less than flush.
Coupling Nuts, also referred to as Extension Nuts, are elongated to join two threaded objects - often rods or pipes. The hex-shaped design of coupling nuts allows for actuation with a wrench.
Slightly heavier and thicker than standard hex nuts, Heavy Hex Nuts also have a larger diameter across the flats. Overall, the load strength of a heavy hex nut is higher than a standard hex nut; thus, it can withstand more weight.
According to fastenerdata.co.uk, hex nuts "are the most commonly used mating part to go with a bolt or a parallel threaded screw. The German Din 934 is the dominant standard that is similar to hexagon nuts ISO style one."
As the name would indicate, Hex Machine Screw Nuts are designed for use with machine screws, thus are available in much smaller sizes than standard, full-sized hex nuts. Sizes typically range from #0 to 3/8" in nominal thread diameter, and the width across the flats typically ranges from 1.67 to 2.6 times the nominal machine screw size.
Hex Hi Nuts are similar to standard hex nuts but manufactured to be 30 – 45% thicker. This offers increased thread engagement with the bolt and provides more surface area for wrenching, making them popular in the vehicular and industrial equipment industries.
Thinner than standard hex nuts, but with the same dimension across the flats and corners, Finished Hex Jam Nuts can be threaded onto a bolt and run tightly against the standard nut to help lock it in place by preventing it from backing off.
Our second article in the series on fastening nuts will focus specifically on locknuts.
If you're unsure of the type of fastening nuts that are best suited for your application, contact an Austin Hardware® representative who can work with you to find the correct solution.