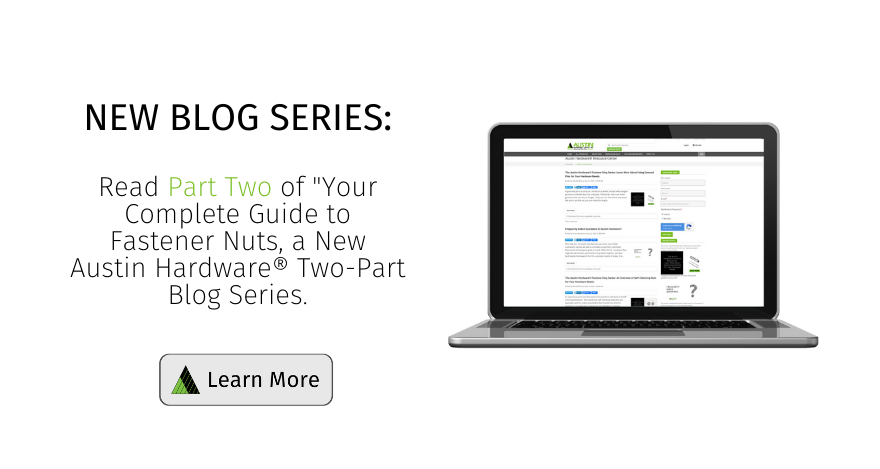 In a previous post, we discussed many of the different types of standard fastening nuts. In this edition, we'll talk about locknuts. The major difference between standard nuts and locknuts is standard nuts consist simply of a threaded hole, while locknuts are designed to prevent loosening when exposed to vibration. As with standard nuts, there are many different variations of locknuts from which to choose. We'll take a look at some of the more popular locknuts here.
A Keps Nut, which is also referred to as a K-nut, Washer Nut, or Keps-K Locknut, is similar to a standard flange nut in that it has an integrated washer. However, unlike the flange nut, the washer is not flat and fixed. Instead, it employs a free-spinning external star-type lock washer, which qualifies it as a locknut. The design is to assist in making assembly more convenient.
Stover® Locknuts are one-piece hex nuts that derive torque from controlled distortion of their top threads from a helical form to a more elliptical shape. Able to withstand severe vibration and shock loads, they're reusable and heat resistant to temperatures of up to 450°F. They are often used in farm machinery, as well as the automotive and metalworking industries.
Like a standard hex nut, a Nylon Insert Hex Locknut is low profile and internally threaded, but with the addition of a nylon insert to help prevent loosening from vibration. Threads are created in the nylon insert when these nuts are installed, making them effective locknuts and slightly more difficult to remove. We'll note that while these locknuts can be removed and reinstalled, the damage done to the nylon insert by removing them compromises their locking properties, rendering them less effective than after initial installation.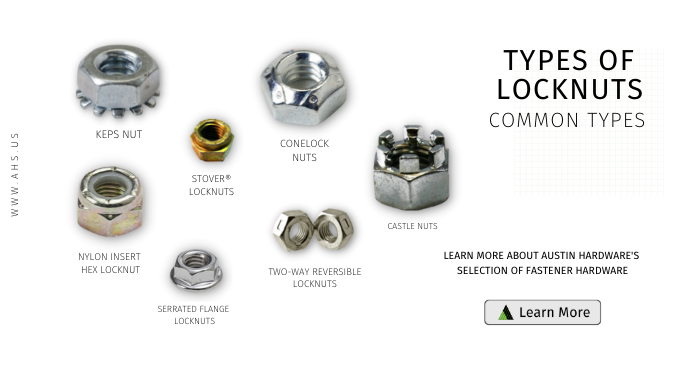 Manufactured with a cone-shaped top that becomes distorted after tapping to create a prevailing torque, Conelock Nuts are an alternative to Keps Nut for high-temperature applications. They are also less prone to becoming faulty in high-temperature situations than a nylon insert locknut.
Two-Way Reversible Locknuts, also known as Centerlock Nuts, have a distorted thread in the middle, which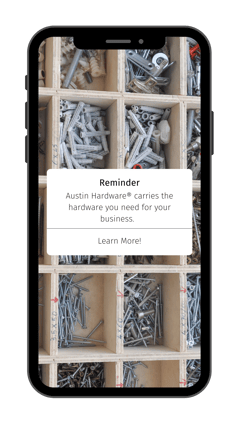 increases the resistance of the mating part, and can be used either top-up or top-down. As with all lock nuts, the primary benefit of this thread structure is to help prevent the nut from coming loose under high vibration.
The serrations on the bearing surface of Serrated Flange Locknuts allow for a better grip on the joint surface. They're especially useful for oversized or irregular shape holes because the flange covers discrepancies, and the serrations cover the entire bearing surface. However, because displacement or distortion is the driver of a snug fit with this fastener, the risk of corrosion can be increased when used with a painted or coated surface.
Castle Nuts – So named for their physical resemblance to the design of the parapets of medieval castles, castle nuts have slots cut into the top, which allows them to be used with cotter pins to prevent loosening. Absent the cotter pin, castle nuts can still be used as a standard hex nut without the added vibration resistance. Castle nuts are often used in low-torque applications. You'll see these used on older automotive suspension systems, at joints where they must stay attached like tie-rod ends and stabilizer links.
As with all fasteners, your specific application will be the ultimate driver of your decision. For more information on locknuts, contact your nearest Austin Hardware location, where a representative can answer your questions and help make the right decision for your application.