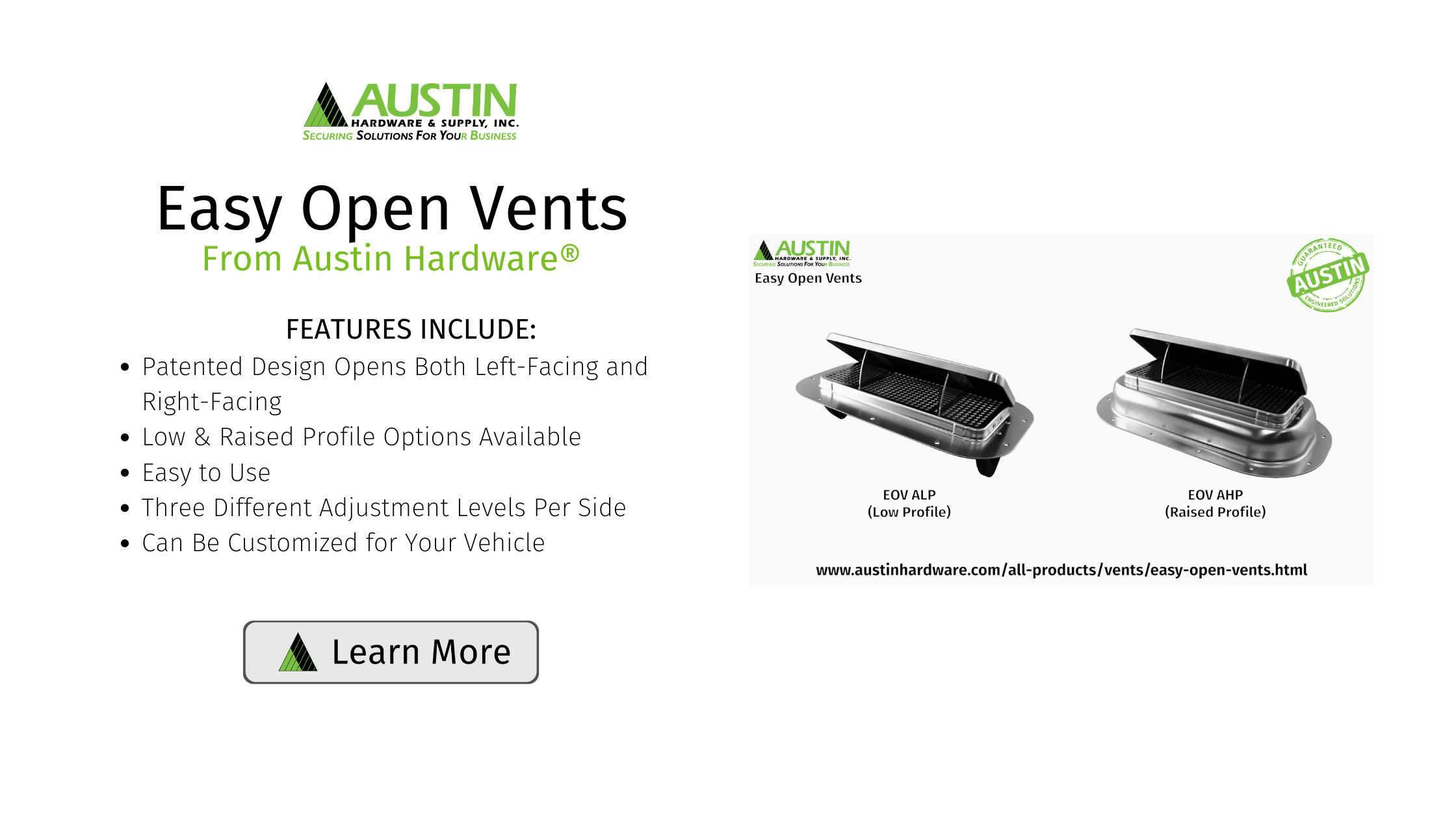 Easy Open Vents by Austin Hardware®
Our engineering team here at Austin Hardware® would like to introduce another patented solution for your business: the Easy Open Vent. This patented design opens both left-facing and right-facing, making it an easily adaptable solution for different applications and industries. Designed with the end-user in mind, the Easy Open Vent or EOV is a great solution for your ventilation needs.
Another great design aspect is that the EOV also has three different adjustment levels per side. It also has low-profile and raised-profile options and both right and left opening capabilities. You can also customize this product with different materials and sizes depending on your specific needs.
Industries
The EOV is designed for use in a variety of industries. Some common uses are; horse/livestock trailers, other types of enclosed trailers, cargo vehicles, utility trucks/vans, and different kinds of industry-specific vehicles.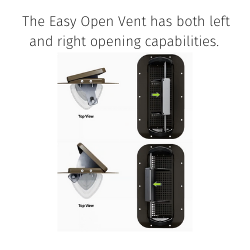 Any work-related vehicle or trailer that needs ventilation can benefit from this design. Due to its versatility, ease of use, and compatibility, this is a great option for any industry. Our engineering department can help you with a design that fits your industry or end-user needs.
The Austin Engineering Promise
As with all of our Austin Guaranteed Engineered Solutions™, we guarantee a quality product that excels in performance and durability. We are built on quality and deliver that with each product line our engineering department designs. Our commitment to excellence is apparent in our diverse offerings of vehicular and industrial hardware.
So, Why the Easy Open Vent? The EOV is another solution we developed after listening to what our customers needed and felt wasn't available on the current market. This product delivers both quality and ingenuity, something our engineering department is known for.
Our team is professional, certified, and experienced. We offer honest, reliable solutions. We know that your business is important to you.
We can help you every step of the way from product design to product launch while staying cost-effective. Visit our engineering page to learn more.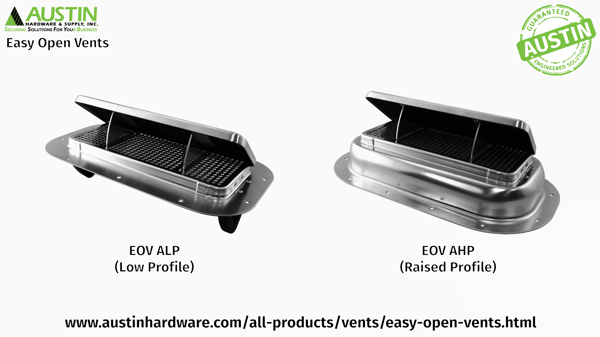 Learn More
If you are interested in learning more about our EOV, visit us here: https://info.austinhardware.com/easyopenvents. You can also shop the product here to see the different options we currently have in stock. As always, Austin Hardware® is here for your every step of the way. We offer a wide variety of solutions for your business.
See our about us page to learn more about the many different solutions we can provide for your business. You can also access our online catalogs to learn more about our parts and products.