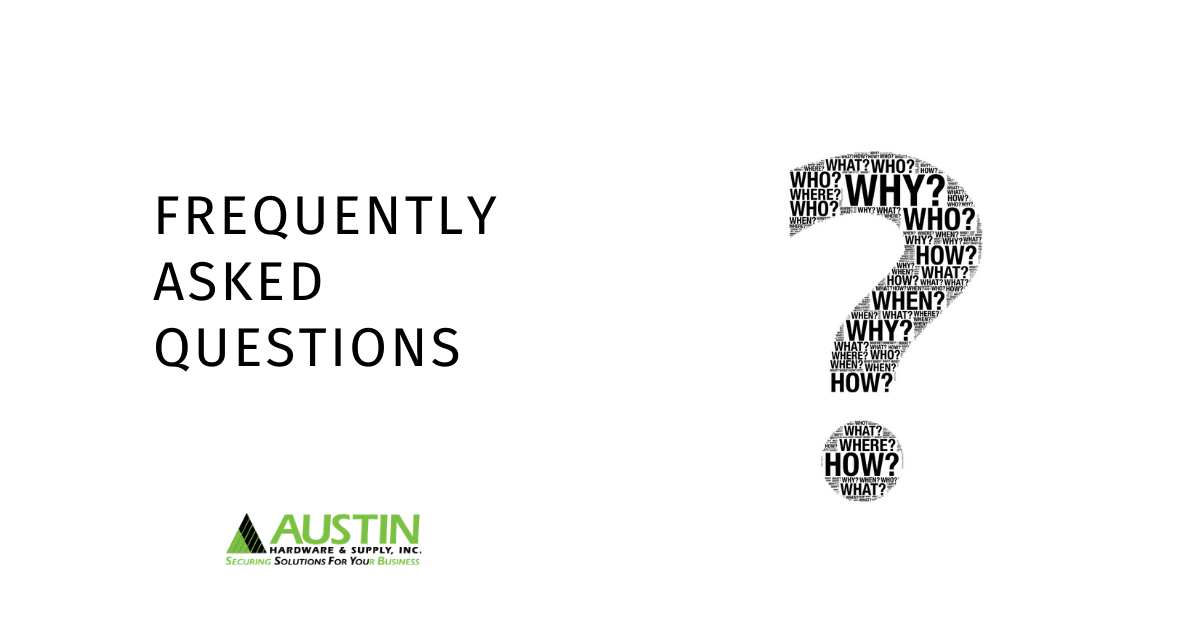 Who We Are
At Austin Hardware®, we serve over 8,500 customers, whom we like to consider as partners, and have thousands of hardware parts in stock. With 10 U.S. Locations, five regional call centers, and dozens of product experts, we have built Austin Hardware® for the customer needs of today. For the last 60 years, we have focused on quality service, quality hardware, and both product and industry expertise to assist our partners in reaching their goals. From vendor management to custom engineering, we provide value-added services that make a difference for our partners.
Our Locations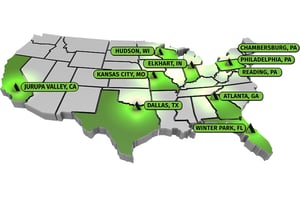 One of the strengths of Austin Hardware® is our 10 U.S. locations spread throughout different regions of the U.S. These strategically based locations allow us to best serve our large customer base. Thanks to these many locations, we are able to tackle managing the supply chains of our customers and help them consolidate their vendors. In addition to our 10 locations, we have five regional call centers dedicated to providing best-in-class customer service. Our multiple locations allow us to provide fast delivery via economical ground shipping for most orders. We offer same-day shipping for most orders placed by 5 p.m. EST, which means we're able to reach over 65% of U.S. customers overnight, and 95% in no more than two days.
Our Products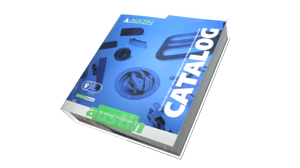 We are a leading provider of industrial, OEM, and fleet repair hardware in North America. We cater to several different industries, including work trucks, RV, trailers, agricultural equipment, and many more. We work with many of the leading manufacturers within the markets we serve, providing them expert solutions. Just some of the products we supply are sealants, adhesives, fasteners, handles, hinges, and more. There's a good chance we carry the products you need, but if we don't, our team of expert sales and purchasing professionals can help source them, or our in-house engineers can help design the right product for your application.
Why Austin Hardware®?
Austin Hardware® has been a family-owned company since our inception in 1960. With that, we consider certain values to be of the utmost importance. These are the values that Austin Hardware® was founded on and continues to uphold today.
Our Austin Values:
People First - Our company was built around people and valued relationships. We believe in creating opportunities for the people we work with and the customers we serve.
Serve Humbly - Great leaders use the power and authority they are given to serve others, not to elevate their own status. We believe all services are honorable, and it is our pleasure to serve you.
Stewardship - We are dedicated to always doing the right thing, being responsible for our actions, and holding ourselves accountable to a higher standard.
Gratitude - Thank you for allowing us to put these values into action for you every day. It is our pleasure to help serve you, our teammates, and our community with excellence.
Our set of values is woven into the fabric of every aspect of doing business with us. We believe that we can add value to your company through these values and our proven customer-focused services. To find out more, visit: https://info.austinhardware.com/about-us