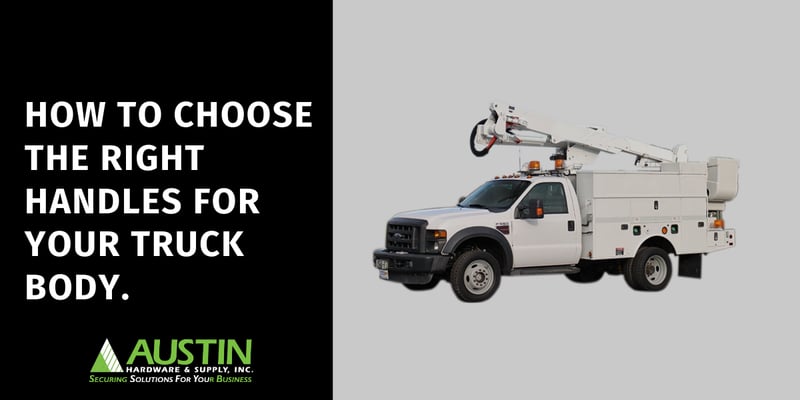 There are many different types of truck bodies. To name a few, there are:
Utility/Service Truck Bodies and Vans
Panel Top/Canopy Body
Crane Body – designed to support cranes for heavy lifting on a job site
Custom Body
Dump Body
Platform Body
Stake Body
Utility/Service bodies and vans are characterized by having numerous compartments in which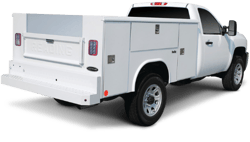 to store tools and supplies for use at a work site. Panel Top/Canopy Bodies, which are a hybrid between a cargo van and a service body, are covered to create an enclosed mobile workstation.
Often, these also feature many tool compartments, both inside and out. Crane bodies, as the name suggests, are designed to support cranes for heavy lifting on a job site and may have a large number of compartments as well.
A custom body may take many configurations depending on the needs of the buyer, and the number and size of compartments will vary depending on the typical use of the vehicle.
These trucks are often available in all aluminum and steel versions. The aluminum versions are lighter in weight for optimal fuel economy and last longer because they don't rust as easily as steel. They are, however, considered to be less durable than their steel counterparts, which are generally stronger and more heavy-duty. Whether aluminum or steel, you'll need to marry the compartments in those the right handles.
But what's right for your vehicle?
In many cases, it simply comes down to security, personal preference, and aesthetics. On the exterior of most work trucks, a good handle will be sturdy, flush mounting, offer an easy area to grip with a gloved hand, and come in single and multi-point options or integrated with a rotary latch so that the same style can be used throughout the vehicle no matter the size of the compartment. Whether the handle is key-locking, pad-lockable, lockable in another fashion (e.g., combination, electronic, etc.), or non-locking is also a factor.
The most popular styles for work trucks tend to be either folding T-style or paddle styles, both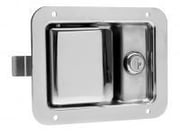 offering all the benefits described above. D-ring handles are very popular in the fire/rescue industry and can also be easily integrated into a work truck. L and T-style handles are also an option.
Interior compartments may not require a handle that's quite as sturdy. Key locking or non-locking is usually all that is required. A smaller handle or even just a hand grip might suffice. But styling is important, whether it's a sleek compression latch or recessed cup, or a lift and turn.
Austin Hardware® has been supplying handles for work trucks since 1960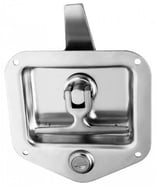 .The work truck industry is a cornerstone of our 60 years in business. We have many of the most popular styles in stock in single and multi-point. Our industry experts can help spec in the right handle for your vehicle, or our engineers can help design something to meet your specific needs.
At Austin Hardware®, we know trucks. We've got the hardware, solutions, and experience to prove it. Whether you're going off-road, off the grid, or off to work--Austin Hardware® has the truck solutions you need for your ride.
Let us be your source for solutions for your work trucks, cargo vans, or other types of utility vehicles. Visit our official TRUCK page here.