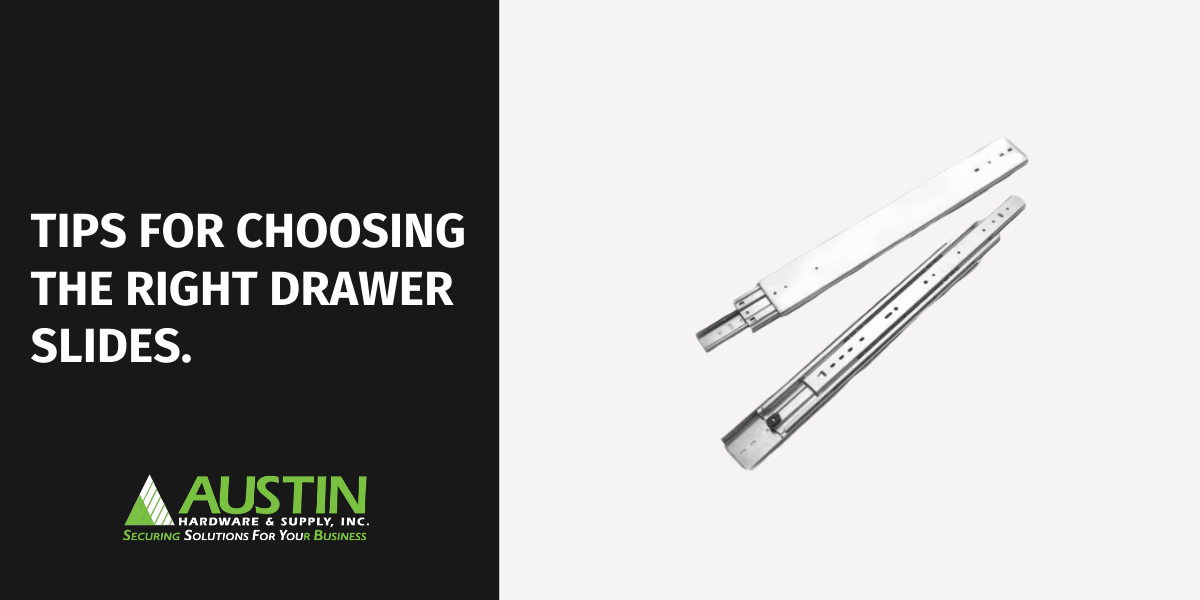 Drawer slides assist in the opening and closing of drawers. From emergency and utility vehicles to server racks, battery trays, and medical equipment cabinets, the list of uses for drawer slides in vehicular and industrial applications is virtually endless.
Choosing the right drawer slide for your application requires the answers to a few questions.
What is the drawer used for, and how much weight will it be required to handle (load capacity)?

What are the environmental conditions in which it will primarily operate? Must the drawers lock in any position (i.e., open position, closed position, both, or neither)?

Must the slides contain a disconnect to allow for the complete removal of the drawer?

How much space is available, and how much of the drawer must be easily accessed?

How often will the drawer be accessed?

How much of a factor are aesthetics (i.e., will the slide be hidden)?
Often, the most critical element to determine, and the best way to begin to narrow down your options, is your required load capacity. From there, you can start to explore the available options.
Materials Matter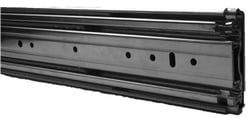 Steel slides are more economical than stainless steel or aluminum and are sufficient in many applications. However, steel lacks the corrosion resistance of stainless or aluminum, so environmental conditions are another critical factor. Stainless steel is the strongest, most durable, and most corrosion-resistant option available. Aluminum also offers corrosion resistance while being a lighter material and is a good option when you need to remove weight from your end product.
Additionally, in especially harsh conditions, a user might consider a bottom mount (or under-mount slide). Because of their position under the drawer box or bed, as opposed to side mounting slides, they experience less exposure to the elements, which makes them inherently well-suited for tough conditions.
To Lock or Not To Lock
Another primary consideration is the required locking position of the drawers, if any. Vehicular applications may require drawers to lock in the closed position to keep them from flying open while in transit in the event of a latch failure. Slides with a quick disconnect feature are recommended when frequent removal and replacement of the entire drawer (not just the contents) is a requirement.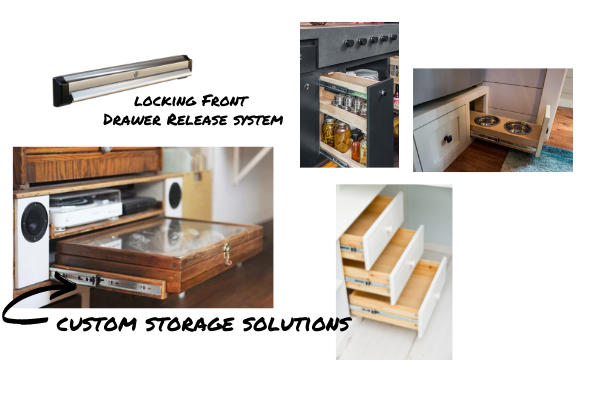 Space Requirements
Available space and required access are the next questions to tackle. The length of your slides will be determined by the amount of space you have to work with. Many slides are available in sizes ranging from 10" long up to 48" in 2" increments. Depending on your space and how much of the drawer needs to be accessed, you can opt for ¾ extension, full extension, or even over-travel.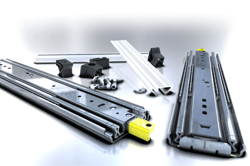 Side mounting slides are easy to install and, depending on their size, generally require between ½" to ¾" clearance between the slides and the sides of the drawer box. Bottom mount slides typically require more precise measurements to mount, as well as available vertical space. The trade-off is that they need less horizontal space and often offer greater adjustability.
Bottom or Under Mount Slides are optimal for moderate cycle requirements and in applications where space may be at a premium. Load ratings on bottom mount slides can range from light to extra heavy duty. Light-duty bottom mount slides are often found in applications where aesthetics are a primary concern.
Bearings
Ball Bearing slides are the most reliable choice for high-cycle applications. They're smooth and quiet, easy to pull open and push closed, self-lubricating, and very durable. They're available in a range of sizes from light-duty (load rated for 50 lbs.) up to super heavy-duty (more than 1,000 lbs.) and with multiple locking and disconnect options.
Solid bearing, or friction slides, are a good, economical choice in applications that require only occasional cycling. They're an especially good option when ball-bearing slides are not recommended, such as in a high-vibration environment in which a loose ball-bearing could cause problems.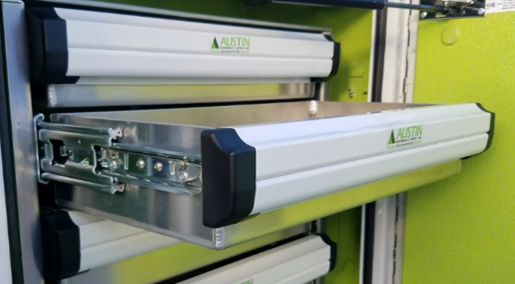 Austin's Drawer Slide Finder can help guide you through the process of selecting the right product for your application. Combine your drawer slide with Austin's patented Front Drawer Release systems for one-handed solutions designed to secure your drawer slides.
For one-on-one assistance, contact us via the web or call your nearest Austin Hardware and Supply, Inc. location.