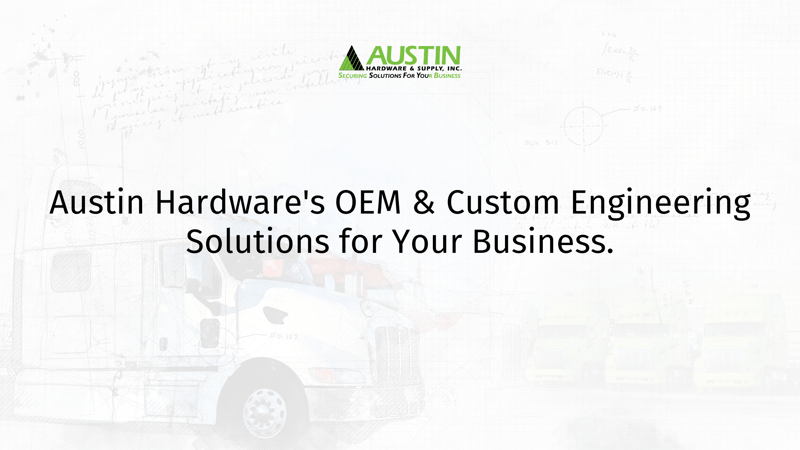 Since 1960 (that's over sixty years!), we've worked hard to develop solutions for the many different industries we serve. What started as a small, family-owned business has grown into the business you see today, with 9 locations serving the U.S. and Canada. Today, Austin Hardware® is the go-to specialty hardware supplier of choice for top companies across dozens of industries.
Our dedication to quality and customer service goes a long way. We are MORE than just a supplier. We offer a variety of ways to serve your business besides specialty hardware. Not only can we function as your supplier for hardware solutions, but we have also become a trusted source for many OEMs for custom-engineered products. Keep reading to learn more...
Why Austin Hardware?
We work hard to provide high-quality, industrial-grade, and cutting-edge solutions. With 550 products designed, and 25 (and counting) patents received, it all adds up to one thing; We are the trusted source in the industry for getting things done. It's part of the Austin Hardware® guarantee built into our culture. We thrive on a challenge and want to solve your company's most significant pain point. Our solutions team is ready to work with your business.
Custom Engineering Solutions
Austin Guaranteed Engineered Solutions™ speak for themselves. From our brands of engineered solutions like; Genesis™, and LifeDefender™, to our patented products like the notable Front Drawer Release, we've gained a reputation for providing innovative and hardworking solutions. Our engineering team gets it because they've done it. 

If you are curious about our engineering process or have ideas you want to come to life, our engineering professionals will work with you to understand your goals and identify your specific pain points. In our initial exploratory session, we will explain our custom engineering solutions process while gathering information about your business as well as your long-term visions. We then analyze your goals to help engineer the right solution for you. 
Certificates of Conformance, Material Certifications, Chemical, and Physical Analyses, and PPAP Certification are available. Click here for our ISO certification document. We can help you with all design steps, from ideation to creation. If you're ready to take the next step, reach out to our engineering team here: Custom Engineering.
Our Custom Engineered Products
Throughout the years, our engineering team has created several great products that provide solutions and innovations for various industries and applications. Check out a few of our Austin Guaranteed Engineered Solutions™ below. 
Ceiling IV Hanger
EMTs and ambulance personnel are under tremendous pressure. They have to concentrate and react quickly to care for their patients and do it while trying to stay on their feet in a fast-moving vehicle. In order to meet the demands of busy EMS teams, the engineers at Austin Hardware® have designed a new, patent-pending ambulance IV hanger system.
The Ceiling IV Hanger allows for one-hand operation, enabling the EMT to quickly and safely engage the IV bag. If you're an ambulance manufacturer looking to improve your selling advantage or an ambulance owner who wants to make your vehicle as safe as possible for EMTs and patients alike, visit our product page to learn more about this innovative new product.
Patented Front Drawer Release
Austin Hardware's patented Front Drawer Release (FDR) was explicitly designed to work in one-handed applications. Designed for on-the-go applications, this easy-to-use and intuitive design provides strength and security in various applications, especially when a one-handed operation is necessary. We also have a locking feature to keep belongings safe and secure. 
One of the great features of the FDR is that the drawer can be unlatched and opened from the "latched closed" position; likewise, it can be unlatched & closed from the "latched open" position. A 300# rated drawer can be pulled open with a single finger! This feature is great for utility vehicles and other applications where busy professionals might need a one-handed operation. 
Our FDR is great for various applications and industries, including but not limited to; fire and rescue vehicles, utility vans, display cases, medical carts, tool boxes, and more. Learn more about our drawer release systems here.
Genesis™ Line of Products
One of our proudest accomplishments is our complete line of Austin Engineered Genesis™ products, which offer diverse solutions for various uses. Genesis™ products come with a guarantee of quality and dependability and are a great line of products for many industries and applications. 
Our products have Proven Success - From our Genesis™ gas springs, patented drawer release systems, easy-open vents, flexible cowl vents, strut nut kits, folding steps, and more. We promise you will find the products you need to get the job done. 
Our engineering team works hard to create top-of-the-line solutions to meet your needs. We make it easy to find hard-to-find hardware. Learn more about our complete line of Genesis™ products here. 
The OEM Supplier
When you think of Austin Hardware®, you should think of us as THE go-to OEM supplier of choice for your industry. We work hard to secure solutions for various industries and have many OEM solutions, including - hinges, handles, latches, sealants, adhesives, fasteners, etc.
We also carry top brands like Sika®, Southco, Eberhard, Ewellix, ITW Plexus, L&L Products, and more. We tackle our customers' needs by driving down costs, finding quality solutions, and being your supplier of choice for OEM solutions. Learn more about Austin Hardware's complete line of OEM solutions here.
Solutions Guaranteed
At Austin Hardware®, we are all about securing solutions and solving your business' most significant problems. We are equally passionate about providing quality, dependable products. As a family-owned business, we are dedicated to these ideals. Let us be your go-to choice for custom-engineered solutions, OEM hardware, etc. Get to know Austin; visit us online to learn more: About Us.