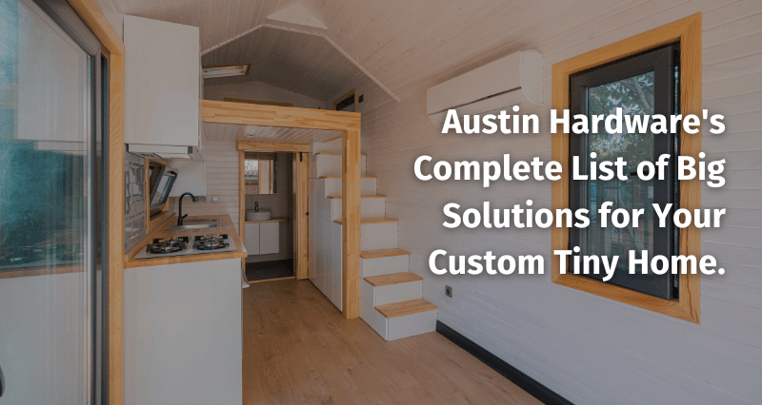 Big Solutions for Tiny Houses
In the last decade, thanks to social media, we have been able to follow the rise of the tiny house movement. This tiny living lifestyle, which includes tiny homes, van conversions, and other mobile housing alternatives, has grown in popularity.
If you want to go tiny, you are entering a vast world of possibility. Tiny living is a great choice for young people, retirees, digital nomads, and families looking to simplify their day-to-day life or hit the road for big adventures and a roaming lifestyle.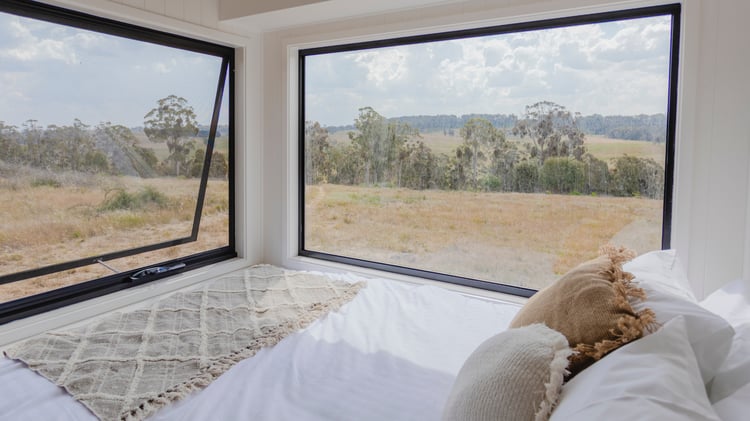 The possibilities are endless. Live wherever you want to save money and space, simplify your lifestyle, and see the world from your front door.
If you are looking to invest in a pre-fab tiny house, start van life in a cargo van, or are thinking of building your own, there are a few things to consider to maximize your space, livability, and comfort. Below are some hardware solutions to help you design your custom space.
Hardware
When it comes to your build, using hardworking and multi-functional hardware is key. You want durable and useful solutions that fit into your custom space. Smaller spaces require you to select very specific hardware.
For example, your railing handle may also double as a drawer pull for tucked-away storage, and latches may need to be weight-bearing and sturdy enough for daily use, such as for a hideaway bed or couch. Hinges need to be hidden in your small space, and gas springs may need to be custom tailored in size to accommodate your unique build.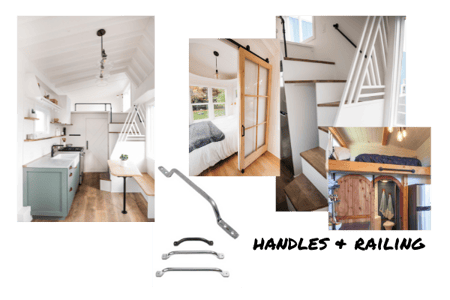 Storage
In today's world, we have a lot of stuff! One of the things you may have thought about is how and where to store all of your belongings in your new dwelling. Some of the things you may want to consider are multipurpose storage and hidden storage.
Utilizing hidden storage areas such as under beds or stairs is a great way to create storage in unused places. There are a few ways you can use these areas to create storage. First, you can create sliding compartments with custom drawer slides.
Another way to create storage under beds or other built-in furniture, such as benches, is by using gas springs to create a lift-top storage container.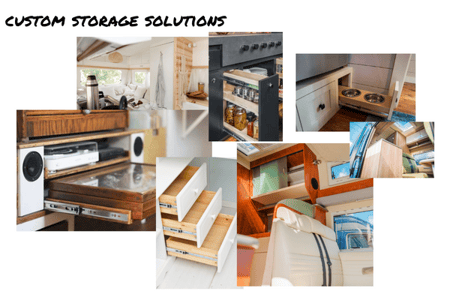 Lighting
Lighting in a small space is vital – you want quality lighting that fits your design and performs well. Good lighting turns a house into a home, and finding the right solution is important to make a comfortable and efficient living space.
LED lighting offers the perfect solution for your small space. It is one of the best options for energy-efficient living and comes in a variety of sizes and styles that can be customized to fit unique builds.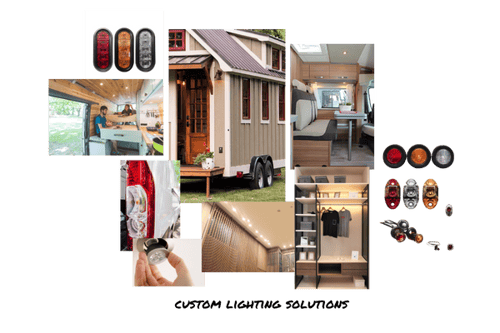 Find More Solutions
As you can see, you have to get creative in such a small space! Thinking creatively about custom solutions for your tiny home is essential. Functional solutions such as drawer slides and gas springs are critical to creating functional storage solutions that tuck away from sight in your tiny dwelling.
We've got you covered when it comes to handles, hinges, latches, drawer slides, gas springs, and more. Our easy-to-search website makes it a snap to find the hardware you need. Plus, our team of experts is ready to offer advice and solutions.
Whether it's your business to build tiny homes or you're creating your own space, our top-of-the-line hardware and expert engineers can help you reach your goals.
Visit our official page here: Tiny House HQ